Aladdin (2019) Guy Ritchie - Movie Review
---
---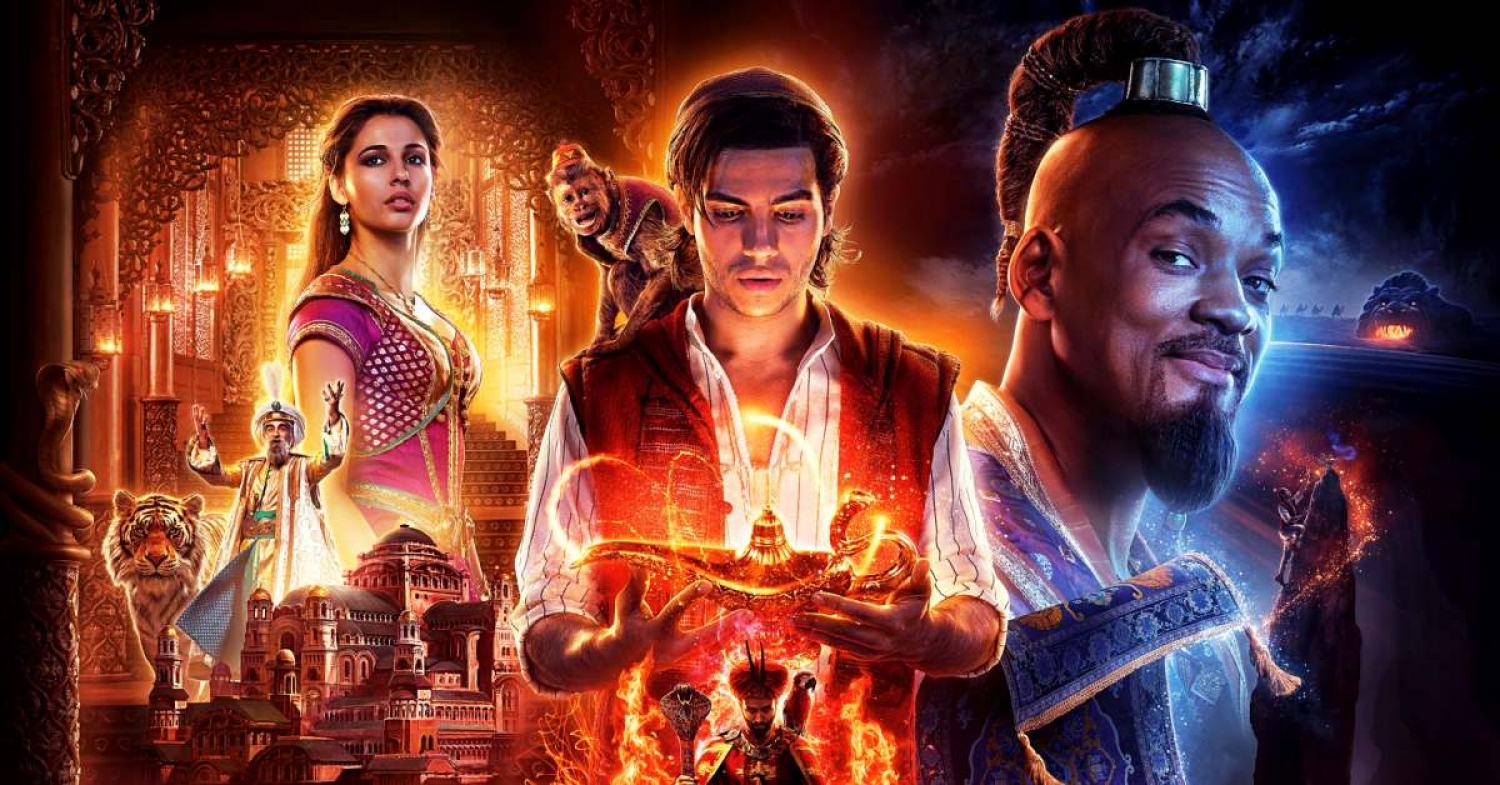 Aladdin (2019) Director: Guy Ritchie Writers: John August (screenplay by), Guy Ritchie (screenplay by) Stars: Will Smith, Mena Massoud, Naomi Scott, Marwan Kenzari, Navid Negahban, Billy Magnussen, Nasim Pedrad, Alan Tudyk Runtime: 128 min Rated: PG (Canada) G (Quebec) MPAA PG for some action/peril
Listen here for audio of radio interviews about films from a Christian perspective with Pastors Ted Giese and Todd Wilken on IssuesEtc.org where Christianity meets culture. (This review contains spoilers – please return and read the review after watching the film)
Rubbing the remake lamp for big returns
Aladdin is the story of a "diamond in the rough" thief and street urchin. Living in the fictional Arabian port city of Agrabah, Aladdin (Mena Massoud) is in a struggle with Jafar (Marwan Kenzari), the Sultan's Grand Vizier, for control of a magic lamp and its powerful Genie (Will Smith) as he falls in love and uses his wishes to win the heart of the Sultan's (Navid Negahban) daughter Princess Jasmine (Naomi Scott). However, the princess, the only child of the Sultan, is more interested in finding her voice and succeeding her father on her own merits than she is in finding a prince to marry. Throw in a wisecracking handmaiden Dalia (Nasim Pedrad) and old favourites like Abu the kleptomaniac monkey, the Magic Carpet, Rajah the tiger, and Iago (Alan Tudyk) Jafar's talking parrot, and Aladdin checks off all the nostalgia boxes needed to make a live action remake of the 1992 animated Disney feature with a couple of new fun twists.
This Aladdin also retains the memorable musical set pieces from the original: "Friend Like Me," "Prince Ali" and the Oscar-winning song "A Whole New World" albeit with a couple of Bollywood and old-school Will Smith hip-hop flourishes along the way. It also includes a new song "Speechless" for Princess Jasmine composed in the same vein as "Let It Go" from Frozen (2013) with lyrics like "I won't be silenced, You can't keep me quiet, Won't tremble when you try it, All I know is I won't go speechless."
Both the 1992 original and this new film are loosely based on "Aladdin and the Magic Lamp" featured in an early 18th century French-language addition to the much older 14th century Arabic language collection of Middle Eastern folk tales "The Book of One Thousand and One Nights (The Arabian Nights)." The tale has a dubious history and may actually be the product of 18th century Orientalism since archaeologist and first translator of the tales, Antoine Galland, appears to be the first person to write down the story. Allegedly based on a story told to him by a Maronite monk in Aleppo, Syria, Arabic-language versions of "Aladdin and the Magic Lamp" only begin appearing after it is published in French in 1710. Galland's publication of his multi-volume set of Middle Eastern folk tales was certainly influenced by the success of Charles Perrault's fairy tales Little Red Riding Hood, Cinderella, Puss in Boots, The Sleeping Beauty and Bluebeard. While works included in Arabian Nights like "The Seven Voyages of Sinbad the Sailor" are authentically translated from original sources, "Aladdin and the Magic Lamp" could likely be the creation of Galland drawing from Middle Eastern motifs and themes.
In both versions of the Aladdin story Disney is about as faithful to the source material as it has been with the European folk tales collected and adapted by Charles Perrault in France and the Brothers Grimm in Germany. With Aladdin, as in many adaptations, Disney softens the depiction of the cultural setting because it is a family film meant primarily for children. The result is an idealized Arabic culture with a modernized and westernized story wherever it suits them. For example, while the story is set approximately in a 9th century AD Islamic port city, a brief scene early in the film shows girls taking lessons in a school taught by a woman teacher such opportunities may not have been available at that time. Through Princess Jasmine the film also includes other Western feminist ideals which could be alien to the culture or time in which the story is set. These modern western touches previously were not emphasised in the original versions of the story or in the 1992 film. Also, Aladdin the thief is neither threatened with nor worries about having his hand cut off for stealing, which is the punishment recommended by the Qur'an in verse 5:38, "[As for] the thief, the male and the female, amputate their hands in recompense for what they committed as a deterrent [punishment] from Allah. And Allah is Exalted in Might and Wise."
Many of these changes and modern Western concisions, whether faithful or not to the original story or historical cultural setting, may not be well received in predominantly Muslim regions regardless of the fact that Disney hired cultural consultants and even spent a great deal of care to insure all the key actors have ethnicities rooted in places like Tunisia, Turkey, Iran, Egypt, Iraq and India. Over the years Disney has taken care to be more culturally sensitive with this particular film property even changing lyrics in the 1992 film's opening song "Arabian Nights" in subsequent releases of the film on VHS, DVD, Blu-Ray and streaming services. This is all the more interesting when considering that "Aladdin and the Magic Lamp" may not even have an Arabic source and might be nothing more than 18th century "fan fiction," another way to look at it would be cultural appropriation before cultural appropriation was called cultural appropriation.
It's important to note that while Aladdin (2019) is a family film geared predominantly towards kids it is produced and made by adults and as such is open to cultural criticism. The question then is how much any of this matters to Disney? As a company Disney must balance its creative efforts with its fiduciary responsibilities, maximizing profits while seeking to minimize anything offensive in the final product. Achieving this goal becomes increasingly complicated as its share of the global entertainment market continues expanding and the cultural expectations domestically and abroad continue to polarize. As a result it is hard to know if additions and changes to the story are artistic, ideological, or financial choices. Are they made to make inroads into the Arabic world or to placate Western liberal revisionist ideas about Arabic culture or are they intended to influence Arabic culture subversively? Are these concerns less important when compared to how the film might be received internationally in China or India? If anything these questions can highlight the precarious cultural minefield a retelling of Aladdin presents to filmmakers like Guy Ritchie who presumably want to continue making films. Apart from Aladdin (1992) being a big hit for Disney, the legitimate question arises: why make a potentially controversial live action version of the film when it would be just as easy to leave it in the Disney "vault" with controversial properties like Song of the South (1946).
In 1998 and 2000 Disney took an initial shot at live action remakes with 101 Dalmatians and sequel 102 Dalmatians a retelling of One Hundred and One Dalmatians (1961) starring Glenn Close as the villainess Cruella DeVil. A decade later Tim Burton reimagined Alice in Wonderland (2010) with Johnny Depp as Mad Hatter building on his huge and surprisingly successful run as Captain Jack Sparrow in Disney's Pirates of the Caribbean franchise. Depp and Burton had previously worked together on numerous films going back to Edward Scissorhands (1990). They had a proven track record and Disney was banking on success. The live action Alice in Wonderland (2010) did well and garnered a sequel Alice Through the Looking Glass (2016) which saw Depp reprise his role; Burton however didn't return to direct the sequel. However, he did return to direct another Disney live action remake Dumbo (2019) which did not match the success of his Alice in Wonderland (2010).
While these remakes are generally not as good as their source material they have proven lucrative for Disney which has ramped up the pace of production and theatrical releases. Starting with Maleficent (2014), the reimagining of the classic animated Sleeping Beauty (1959) focused on the villainess Maleficent played by Angelina Jolie, Disney basically began releasing one of these live action films a year: Kenneth Branagh's Cinderella (2015); Jon Favreau's The Jungle Book (2016); Bill Condon's Beauty and the Beast (2017); and Marc Forster's reimagining of the Winnie the Pooh franchise Christopher Robin (2018). This year however releases have hit a breakneck pace with Burton's Dumbo in March, Ritchie's Aladdin in May, Jeff Nathanson's highly anticipated The Lion King in July, the live action sequel Maleficent: Mistress of Evil with Angelina Jolie reprising her role in October, and Lady and the Tramp in November. With this development a question emerges: will the movie-going public have the appetite for this glut of nostalgia or is this hard sprint a sign that Disney knows the nostalgia finish line is right around the corner—a kind of "make hay while the sun is shining" attitude as dusk approaches on the current nostalgia fever? That might be placing the best construction on it.
Another possibility is that Disney is simply dominating the industry by acquiring its competitor's products and then capitalizing on them in the marketplace so they feel safe releasing as much product as they want. (Notable examples include purchasing Marvel Entertainment for $4 billion in 2009, Lucasfilm including the Star Wars franchise for $4.06 billion in 2012 and the recent 2019 acquisition of 21st Century Fox for $71.3 billion. Disney even has an 80% controlling stake in ESPN, Inc. and a 67% stake in the streaming service Hulu.) 2019 will also see the launch of its own NETFLIX-style premium streaming service Disney+. After the general 1980s creative slump Disney focused on getting the mouse house in order in the 1990s and from there the Disney renaissance emerged and the big business side kicked into full gear making it a corporate monolith. As a result the question of whether the public even wanted a Guy Ritchie remake of Aladdin (1992) is somewhat immaterial. This might be one of the biggest criticisms of this project and other live action remakes: they are generally unnecessary and a little risky.
Lately director Guy Ritchie has been hit or miss with his films. In 2017 he released the forgettable King Arthur: Legend of the Sword which garnered poor reviews suffering the same fate as his The Man from U.N.C.L.E. (2015) reboot. Both films were poised for a franchise with sequels but failed to perform sufficiently at the box office to warrant future instalments. Perhaps Ritchie will have better success with his rumoured third instalment of his Sherlock Holmes (2009, 2011) series starring Robert Downey Jr. and Jude Law. Famous for his quirky yet gritty slang-filled films focused on street hustlers and petty criminals like RocknRolla (2008), Snatch (2000) and Lock, Stock and Two Smoking Barrels (1998) Richie might seem a logical fit for director of a live action Aladdin remake. But apart from a couple of visual flourishes here and there his personal style and creative approach are hardly notable. Playing it safe, Richie delivers a rather predictable film.
After watching Aladdin (2019) the Christian family, especially with small children, will want to review and talk about the Seventh Commandment: You shall not steal. What does this mean? We should fear and love God so that we do not take our neighbour's money or possessions, or get them in any dishonest way, but help him to improve and protect his possessions and income. In the film theft is both glamorized with a lot of flash and dazzle while at the same time downplayed due to a lack of consequences. In fact, Aladdin comes out on top and his initial life of crime is excused because of his poverty. Worth noting here is that Martin Luther in his Large Catechism is just as critical of the rich and powerful thief who takes what isn't theirs in a way that only appears right, as he is of the small-time crook. Such a rich and powerful criminal is the villainous Grand Vizier Jafar. The majority of his actions are done in secret as he schemes to obtain and even expand the kingdom for himself through unprovoked warfare against Princess Jasmine's grandfather's neighbouring kingdom. At one point Jafar, who once was a street urchin like Aladdin, says to Aladdin, "Steal an apple, you're a thief. Steal a kingdom, you're a statesman." By including a back story to Jafar this version makes him into a cautionary character warning Aladdin of what he could become if he becomes drunk on the power of the magic lamp and what the wishes might give him.
In the end Aladdin provides a positive example of following the 5th and 7th commandments when he finally makes good on his promise to use his last wish to release the Genie from his imprisonment showing he truly wants to help and support the Genie in every physical need and allow him to have a human life where he can have possessions and income of his own along with a wife and family. Aladdin is also supportive of Princess Jasmine becoming the Sultan.
As with all of these recent Disney remakes audiences are better served by having low expectations. While this is one of the better live action remakes it is still silver next to gold when compared to the 1992 animated feature. The world Richie presents is clean and shiny and doesn't feel or look lived in; the music is serviceable and fun in the moment. Forgiving fans will find much to enjoy, but the sticklers in the crowd will be less accepting. For those who know well the 1992 film, the ghost of Robin Williams haunts Smith's performance yet he does an admirable job and is most effective when he isn't the CGI big blue Genie and might even be the best part of the film. The movie, while wooden in parts and perhaps a bit too melodramatic, is not without its charm and fun moments.
Rev. Ted Giese is lead pastor of Mount Olive Lutheran Church, Regina, Saskatchewan, Canada; a contributor to The
Canadian Lutheran
,
Reporter
; and movie reviewer for the
"Issues, Etc." radio program
. Follow Pastor Giese on Twitter
@RevTedGiese
.
Check out our
Movie Review Index
!
You can also find this article featured in the Reporter and the Canadian Lutheran.
---