Mulan (2020) By Niki Caro - Movie Review
---
---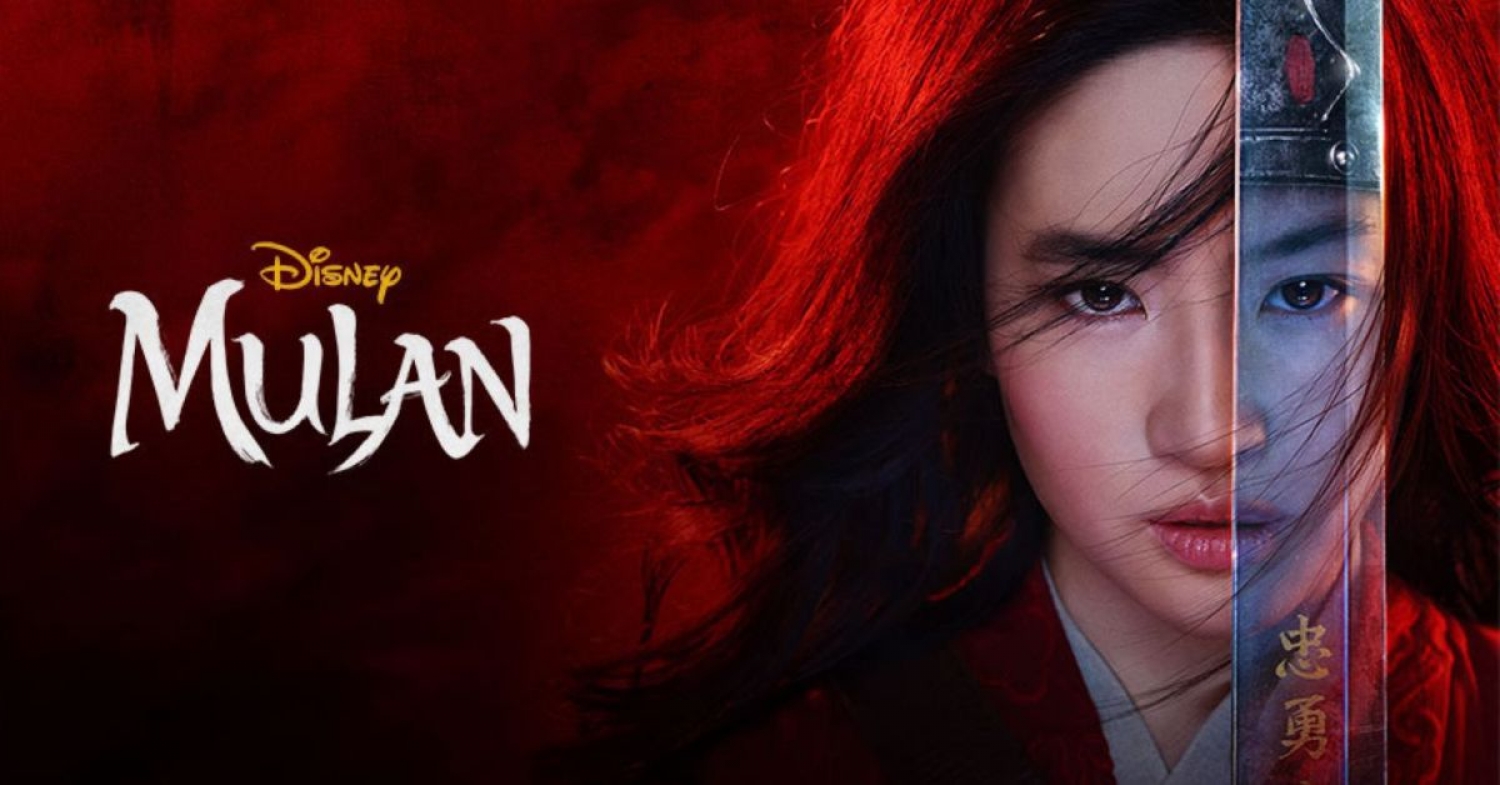 Mulan (2020) Director: Niki Caro Writers: Rick Jaffa, Amanda Silver, Lauren Hynek & Elizabeth Martin (screenplay by) Stars: Yifei Liu, Donnie Yen, Li Gong, Jet Li, Jason Scott Lee, Yoson An, Tzi Ma, Rosalind Chao, Pei-Pei Cheng, Xana Tang, Ron Yuan, Jun Yu, Chen Tang, Doua Moua, Jimmy Wong, Ming-Na Wen Runtime: 115 min Rated: PG (Canada) MPAA Rated PG-13 for sequences of violence
Listen here for audio of radio interviews about films from a Christian perspective with Pastors Ted Giese and Todd Wilken on IssuesEtc.org where Christianity meets culture. (This review contains spoilers)
Disney's live action Mulan is a reimagining of its 1998 animated feature loosely based on the 6th century AD "Ballad of Mulan" about a daughter who conceals her identity and rides to war in place of her father and eventually returning to her family as a respected warrior. In the short Chinese folk song it is only revealed at the end that Mulan was a woman and poetically concludes with a question about male and female rabbits which, while different from one another, the poet writes "when [they] run side by side, How can you tell the female from the male?"
Slated for theatrical release in 2020, due to the COVID pandemic Niki Caro's Mulan was released instead on Disney+ streaming service in September viewable by subscribers at an additional cost of $30. In December 2020 it became available for all subscribers with no additional cost. Content providers have recently modified their release strategy with films like Patty Jenkins' Wonder Woman 1984 (2020) where films are released simultaneously in theatres and on streaming services. This new industry practice has been criticized by directors like Canadian Denis Villeneuve whose film DUNE was pushed from a December 2020 release into 2021. His film is slated for the same kind of dual release. He and others in the industry fear the impact these new delivery strategies will have on the practice of attending films in person in theatres. These films and others like Caro's Mulan, which is beautifully shot and would have been great to see on the big screen, were all intended for theatrical release creating the optimal viewing experience for sound and picture.
Mulan is another entry in Disney's live-action remakes and reimagining of animated films. All these films—from Bill Condon's Beauty and the Beast (2017) to Guy Ritchie's Aladdin (2019) and Jon Favreau's The Jungle Book (2016)—invite comparison with both the original Disney adaptations and their respective source materials. Disney can hardly avoid such comparisons considering the inherent nostalgia factor with these often-beloved films. Movies like Roger Aller's and Rob Minkoff's The Lion King (1994) are so well known that remakes like Jon Favreau's The Lion King (2019) start at a disadvantage and require a legitimately hard uphill battle to be successful. However, Tony Bancroft's and Barry Cook's animated Mulan (1998) is a relatively underrated Disney film from the1990s Disney Renaissance period which affords Caro a certain latitude in her current version. That said, social media and the general public are now pickier when it comes to nostalgia and making a film to please everyone is nearly impossible.
Ubiquitous social media adds the hurdles of global-, gender-, and race-related politics that further complicate such productions. Caro's Mulan was not immune to these pressures including personal comments made by the lead actress, Yifei Liu, about the 2019 Hong Kong protests; the removal/alteration of certain characters like Mulan's love interest Shang who had become a kind of bisexual icon among a subset of LGBTQ viewers; and controversies around some of the film's shooting locations that required permission from the same local Chinese government officials involved in running detention/re-education camps for Uighur Muslims. These impacted the public perception of the film in advance of its release.
How does Mulan (2020) compare to the 1998 version? With the success of Robin Williams as the Genie in Ron Clements' and John Musker's Aladdin (1992) Disney clearly wanted to continue bringing popular comedians into their animated film. In 1998's Mulan Eddie Murphy landed the comedic relief role voicing the diminutive dragon Mushu a family ancestral guardian spirit tasked with returning the runaway Mulan who instead seeks to redeem himself by helping her become an honoured warrior. Caro's Mulan dispenses with this character in favour of a silent mythical phoenix which appears repeatedly as encouragement to Mulan (Yifei Liu). While her war-hero father Zhou (Tzi Ma) explains that the phoenix is the family's guardian spirit, it hardly amounts to much in the overall storyline. The phoenix never speaks and is only seen at a distance whereas the 1998 film used the dragon Mushu as a way of further pressing the theme of Mulan being underestimated because she was a girl among men. The removal of the character from the remake takes away much of the original film's fun.
Likewise, the choice to not make the new film a musical reduces much of the charm from the final product. While Bancroft's and Cook's Mulan didn't have the show-stopping musical numbers of films like Ron Clements' and John Musker's The Little Mermaid (1989) or Gary Trousdale's and Kirk Wise's Beauty and the Beast (1991) the songs did propel the story and flesh out the characters with great economy. A memorable example is the song "A Girl Worth Fighting For" which rounds out the characters of Mulan's fellow soldiers showing them as sensitive and caring despite their general crudeness. Like the mystical dragon Mushu's storyline, songs like these helped build the credibility of the soldiers' decision to join her in battle at the end of the film regardless of the dishonour she has committed by concealing that she is a woman. Basically, Mulan is 'a girl worth fighting for' and the dramatic irony further invites viewers into caring about Mulan as a character. Even though Caro's Mulan is more serious in tone leaning more on dramatic storytelling, it fails to be as clever and sophisticated as Bancroft's and Cook's animated Mulan.
That's not to say Caro's Mulan is devoid of fairytale-style magic; the invading Hun villain Böri Khan's (Jason Scott Lee) falcon Xianniang is more than she appears. She is a shape-shifting witch used by Böri Khan to infiltrate enemy strongholds, deliver messages, and attack armies as a large flock of small birds. Xianniang is a creative addition to the story but she muddies the waters and complicates the film's third act cheapening Mulan's character arch. On the one hand she is intended to be a dark mirror warning Mulan of what she could end up becoming if she joins Xianniang and follows her in her sorcery, while on the other hand Xianniang is played as a sympathetic character enslaved by Böri Khan who then sacrifices herself to save Mulan in the heat of battle. Some may applaud the introduction of ambiguity to the villains however, when compared to Bancroft's and Cook's Mulan, such choices sap this new film of danger and dramatic purpose.
Both the older and newer film refrain from grim violence; the fighting is bloodless and that's just fine since these films are made for a younger audience. In many ways Caro's Mulan is indebted to films like Ang Lee's Crouching Tiger, Hidden Dragon (2000) and Yimou Zhang's Hero (2002) and House of Flying Daggers (2004). Mulan's acrobatic martial arts abilities are presented as a by-product of her Qi/Chi, her vital spirit of life, which her family wants her to hide because it's considered socially dishonorable for a young woman to outshine men in this regard. For mature audiences who enjoy these martial arts films the aforementioned Ang Lee and Yimou Zhang films do a better and more compelling job of thrilling audiences. Also, while the film includes top-rate martial arts actors like Donnie Yen, Jet Li, Jason Scott Lee, they are underutilized and when Jet Li as the Emperor of China eventually fights it comes off as a peculiar non-sequitur as his abilities were not established earlier in the film.
Christian viewers will want to remember that Qi/Chi, as presented in this film, is not in keeping with Christian beliefs. God grants the gift of body, mind, and spirit to all people and as St. Paul teaches, "suffering produces endurance, and endurance produces character, and character produces hope, and hope does not put us to shame, because God's love has been poured into our hearts through the Holy Spirit who has been given to us" (Romans 5:3–5 ESV). Such things are the realm of the spirit and are a natural part of a person. Caro's Mulan suffers for her choices of running away and joining the army and endures all the consequences those choices bring which then produces character. As a result, she overcomes the shame she has brought upon her family for her lack of truthfulness regardless of her courage and bravery. For Christians, the Spirit given to them by God does not produce supernatural acrobatic abilities for the purpose of martial arts. The downside of emphasizing this in Caro's Mulan is that it makes Mulan less relatable to the general audience. She becomes an unstoppable magical child and not a talented, clever, competent young woman advancing on the merits of her skills and abilities.
In the end Mulan brings unexpected honour to her family. For Christians, the way this is presented quickly becomes a narrative pitfall and one that parents may want to carefully consider. The 6th century AD Chinese folksong doesn't present Mulan as disobedient to her mother or father; she simply goes to war in her father's place because there are no suitable male children in the family. Both the 1998 and the 2020 film show Mulan's choice as an act that brings dishonour on the family creating a dramatic hurdle for the character to overcome. As in the folksong, in Caro's Mulan, when offered a prestigious position among the Emperor's warriors, Mulan chooses to return home. Unlike the folksong in this new film Mulan asks her parents forgiveness yet because of her achievements her parents admit they were wrong and ask for her forgiveness … in fact the whole Chinese culture of gender roles is deemed wrong and in need of reform! This is a common modern theme of the child who knows better than the parent, where instead of a child being raised into a pre-existing culture, the culture must conform to the child.
The film suggests that it was Mulan's father Zhou's pride that caused her to go in his place. Had he accepted the dishonour of declining the Emperor's call for men to fight, Mulan would not have gone in his place. It is clearly established that women gain honour for their family through marriage and because there was no cultural expectation for Mulan to go to war Zhou's encouraging her towards marriage was not an un-fatherly assertion. Perhaps the best construction on this concluding point of the film can be found in Colossians 3:20–21, "Children, obey your parents in everything, for this pleases the Lord. Fathers, do not provoke your children, lest they become discouraged." Christian families watching the film together will want to review the commandment about honouring mother and father. If Mulan had honoured, served and obeyed her parents from the beginning it would be a very different film. Interestingly, the 6th century AD Chinese folksong presents Mulan as a daughter motivated by her love for her parents whom she cherishes. The fact that she didn't pine for marriage only facilitated her willingness to go to war in her father's place.
Over the centuries the "Ballad of Mulan" conforms to the zeitgeist of the age. The 1990s the animated feature didn't praise Mulan's cross-dressing because that was not widely promoted in the media at the time. That element of the story, which was previously treated with awkward kid gloves, today is further complicated because the story's narrative still requires it to be a point of dishonesty and another dramatic hurdle for the character to overcome. Another modern reflection in the story is the idea that female success is rooted in being able to do what men do and do it better. As a result, Mulan sends mixed signals about the value of personal character and what it means to be a man or a woman. In real life this utilitarian approach doesn't uniformly lead to happiness. What it promotes is a kind of "the ends justify the means," way of living which in the context of the film ultimately rewards Mulan's dishonesty. Christian families will want to look at the commandment about bearing false witness remembering that a Christian's true identity is in their baptism into Christ Jesus.
The 1998 and the 2020 films—both to lesser and greater extents—also provide an opportunity for Christian families to talk about Eastern ideas of ancestor worship. The animated version particularly paints Mulan's ancestors as spirits focused on and tied up with the daily life and honour of her family. Lutherans among Christians don't believe, teach or confess that the faithfully departed continue to involve themselves in the daily life and honour of their family; they rest in Christ awaiting the resurrection on The Last Day. And even though Scripture reminds believers to remember their leaders and consider the outcome of their way of life and thereby imitate their faith (Hebrews 13:7), they are not encouraged to pray to them or seek their guidance and help in this life.
Disney's determination to retread its entire animated back catalogue as live-action CGI films is becoming more of a "because-we-can" curiosity and less of a cinematic experience. Setting aside a couple exceptions like Kenneth Branagh's Cinderella (2015) and Marc Forster's melancholic yet kind Christopher Robin (2018) most of these films ring hollow and for that reason in the years to come they will likely find themselves revisited only half as often as the originals.
Rev. Ted Giese is lead pastor of Mount Olive Lutheran Church, Regina, Saskatchewan, Canada; a contributor to The
Canadian Lutheran
,
Reporter
; and reviewer for the
"Issues, Etc." radio program
. Follow Pastor Giese on Twitter
@RevTedGiese
.
Check out our
Movie Review Index
!
---