A Quiet Place Part II (2020) By John Krasinski - Movie Review
---
---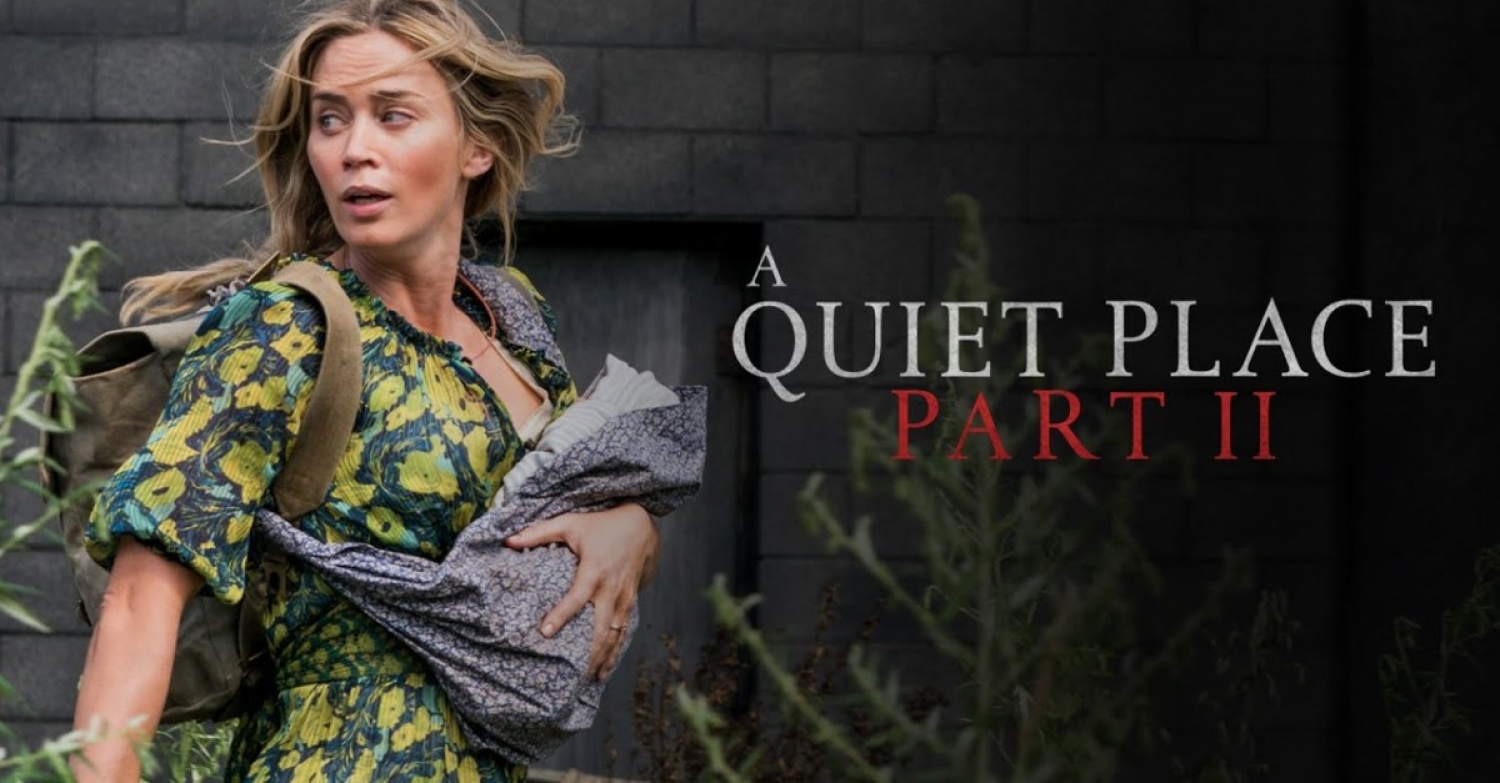 A Quiet Place Part II (2020) Director: John Krasinski Writer: John Krasinski (written by) Scott Beck, Bryan Woods (characters by) Stars: Emily Blunt, Millicent Simmonds, Cillian Murphy, Noah Jupe, Djimon Hounsou, Zachary Golinger, John Krasinski Runtime: 97 min Rated: 14A (Canada) Rated PG-13 for terror, violence and bloody/disturbing images.
Listen here for audio of radio interviews about films from a Christian perspective with Pastors Ted Giese and Todd Wilken on IssuesEtc.org where Christianity meets culture. (This review contains spoilers)
Making noise in theatres again
A Quiet Place Part II is the sequel to John Krasinski's 2018 surprise hit horror/thriller A Quiet Place about a family struggling to survive in a post-apocalyptic world crawling with deadly aliens who seek their prey through sound. The blind aliens can't 'see' what they can't hear so life must be lived very quietly as any loud noise might bring a swift violent death. The family has an advantage in the face of this otherworldly adversary: their deaf daughter Regan (Millicent Simmonds – who is deaf in real life), provides a built-in way to communicate silently using sign language.
The first film was ingenious and carefully crafted to draw viewers into the Abbot family's plight as father Lee (John Krasinski), and mother Evelyn (Emily Blunt) cared for their sons Marcus (Noah Jupe) and Beau (Cade Woodward), and daughter Regan on a secluded farm designed for a quiet life as they awaited the birth of another child. At first, viewers didn't know what was out there stalking the family or what it looked like—a mystery that was a big part of making the first film engaging. This is one aspect of the sequel which is not available to writer/director Krasinski. It's always difficult to top an engaging creature-feature once the monster is out of the shadows; few films manage to successfully pull it off. (A notable exception would be James Cameron's Aliens (1986) follow-up to Ridley Scott's Alien (1979)). Krasinski's sequel makes an admirable stab at it while choosing to further the theme of family and fatherhood. That is a bit of a challenge since the first film ended with the Abbot family father sacrificing his life to protect his newborn son and family.
For many this may be one of the first post-lockdown films they see in theatres as the film industry begins putting films back on the silver screen, and there is something remarkable about that. The film opens with a pre-alien-invasion small-town Little League game meant to depict what the world was like for the Abbots before they had to change almost every aspect of their lives to avoid death. For viewers of A Quiet Place Part II watching friends and neighbours sitting closer than six feet, faces uncovered, sharing food, gathering in large crowds is reminiscent of life before the Covid pandemic and danger of illness descended on the world in 2020. This is a rather meta experience and a quirk of timing as the film's release scheduled for March 18, 2020 was delayed.
This flash back to a time before their post-apocalyptic struggle allows Krasinski to reprise his role as Lee Abbot and establishes the family's relationship with another father, Emmett (Cillian Murphy), whose son is also playing in the same Little League game. When the Abbots quickly abandon their farm after the flashback and venture into the countryside, Emmett is the first person they encounter. They had not seen him—or anyone— following the alien invasion and when they do meet, Emmett is a father without a family and the Abbots are a family without a father. This theme of a family without a father and a father without a family is rather unexpected but a welcome continuation of previous themes. What one might expect from Hollywood is the mother, Evelyn, filling her husband Lee's shoes following his death and refusing the help of any other man. What viewers discover however is a woman with three children—one an infant— who actually needs and wants Emmett's help not to replace Lee but as a man skilled as a father. Emmett is at first reluctant as he is deeply mired in his grief and trapped in a feeling of failure for not protecting and providing for his family. Viewers of the first film will remember that the Abbot's early in their struggle tragically lost their youngest son Beau to the aliens and were not able to save him so while they don't talk with Emmett about it they share his grief having likewise lost a son and a father in their own family. The Abbots arrival at his 'homestead' in an abandoned train yard becomes an opportunity for Emmett's redemption as a father.
Both son Marcus and daughter Regan prove to be their father Lee's children honouring his memory and showing how his admirable qualities live on in their actions. Apart from the infant, each member of the Abbot family, including Evelyn, must continue doing their part in the absence of Lee however they couldn't succeed without Emmet's help. What viewers are provided is a film with thrills and suspense that builds on the previous story while presenting the virtues of family, fatherhood, motherhood, and protection of the helpless contrasted with a deadly callous irrational threat bent on death and destruction.
ompared to many blockbuster action flicks of the last few years churned out by Disney and MARVEL A Quiet Place Part II is a short film clocking-in at 97 minutes harkening back to the under-two-hour creature-feature films of the '80s and '90s like The Thing (1982), Predator (1987), Tremors (1990), and Arachnophobia (1990). The first film in this series is also around 90 minutes long. For some audience members A Quiet Place Part II will feel a bit short with its rather abrupt ending and it doesn't advance the big-picture plot concerning what the rest of the world is going through as much as viewers might expect. Instead it opts for a more intimate story of a family enduring hardship. What the film highlights in its relatively short run-time is the importance of family as a building block of society without which community breaks down into something that looks more like John Hillcoat's adaptation of Cormac McCarthy's The Road (2009).
Christian viewers will also be invited to contemplate the importance of Christian faith within the family. In general Christian themes don't show themselves overtly but the one place where it's most obvious is in the flashback. Lee and Regan are trapped in a restaurant following the interruption of the Little League game and an older man begins to pray the Lord's Prayer. Lee Abbot gently puts his hand over the man's mouth not because of ambivalence or hostility toward faith but rather as a request to pray quietly as they try to hide from the sound-seeing aliens. It's not unusual for the Christian faith and traditional family and roles of men, women, and children to be denigrated in Hollywood films, however, like the first film, the sequel bucks that trend.
As a warning, there is a fair amount of violence and gruesome moments related to the aliens and attempts to evade them so this film will not be for everyone. But those who enjoy sci-fi, horror, post-apocalyptic action thrillers will find a film that works hard to deliver on what it promises. It certainly has aspirations toward being a bigger franchise and, depending on how well it does, may have the financing available for a bigger better part three.
A lingering question raised by A Quiet Place Part II and the timing of its release will be whether audiences will continue having the appetite to watch post-apocalyptic films after experiencing the challenges of the pandemic. Has the post-apocalyptic bubble Hollywood has milked over the years which made film franchises like The Hunger Games, Mad Max, and Terminator so popular burst because of Covid? Only time will tell.
Rev. Ted Giese is lead pastor of Mount Olive Lutheran Church, Regina, Saskatchewan, Canada; an award-winning contributor to
The Canadian Lutheran
;
Reporter
; and movie reviewer for the
"Issues, Etc." radio program
. Follow Pastor Giese on Twitter
@RevTedGiese
.
Check out our
Movie Review Index
!
---