We place faith in Him / Pr. Lucas Andre Albrecht / Sunday April 4th 2021 / Easter Sunday - Holy Week / Mount Olive Lutheran Church
---
---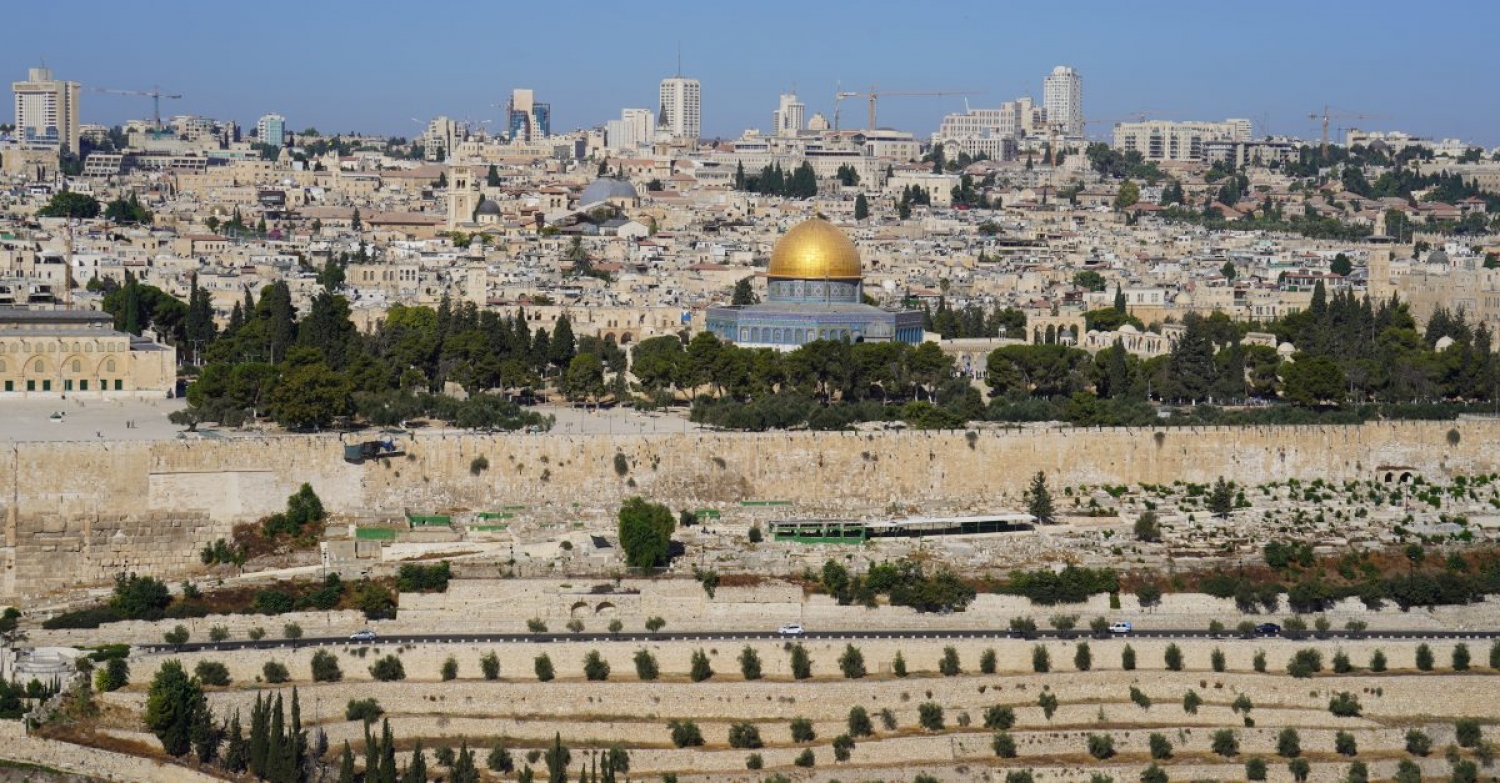 Theme: We Place faith in Him
___________________________
Intr – Your life, my life, they happen in places. So many places. The house, the workplace, the streets, the school… The places you've been, the place you are right now. The places you don't want to remember, the places you just can't forget. We place a lot of our life's effort and time actually both remembering the good places of the past or vying for the places of the future – at least in our dreams and hopes; places where God has placed us - we like to call it also Vocation – where we are met by Him in daily life.
The Holy week, the work of Christ is also made of places. On this Easter Sunday we to want place our eyes on three specific, different places of this beautiful, Grand Story of Salvation. Places which are important and defining. Sites and occasions where our place in God's hands, our place in the family of Christ, our place in heaven were prepared, won, and extended to us. Above all, we want to reflect on how each of those places is all about Christ – and, therefore, about us. I invite you for a walk around Jerusalem as we reflect about feelings, facts and relationships; about facts, truth and word. And how this is all so connected to our lives.
1 – In the Upper Room
The first place: the upper room. A meal is taking place.
Meal – have you ever noticed that the place of many important happenings in life is around a table, or around food? Preparing food, and receiving it, is a sign of love, care, proximity, friendship. Isn't the kitchen many times the preferred place of the house?
Jesus gives one of the Two Sacraments to His disciples around a table; in intimacy, confidence, love and care. It is highly significant that one of the three means of Grace is a meal. That means that the altar, the table of the Lord, is a Place to be. It's a place to return frequently to. The altar is the place where Jesus meets us and we meet him truly, faithfully and physically.
Teaching – around the table, Jesus also teaches, as we learn from St. John. Love, unity, endurance. Serving – through the feet washing. Precious lessons that have a place in our heart and our actions, by the sending of the Comforter – another promise made at that very place.
Tension and Betrayal – Not everything was fine and fair in that evening. The upper room was the place of betrayal too. It was the inner circle of Jesus' friends, and still there was one who decided in his heart to do the unthinkable. Jesus deals with the situation with firmness and love.
There are times we experience betrayal in our inner circle. There are times we are the ones betraying confidence of family and friends. Remember, the same place of betrayal was the place of forgiveness. That would have been extended even to a repented Judas – one thing that unfortunately did not take place in his heart. Forgiveness is always there for you. And for all.
Hymn Singing – Fellowship, love, tension, betrayal. And also hymn singing. Was it a joyous celebration like on Easter Day, or a tense repetition of notes like in a funeral? I think it was probably the later. What we know for sure is that from the many arts available Jesus chooses singing (not to the demerit of any other of them). Singing has been so drilled down deep in our Christian minds, so closely connected to our life of believing, teaching and confessing that lead our Teacher Dr. Luther to affirm it to be the next big thing after the Word itself.
When you are happy, sing. When you are sad, sing. When you are in a situation where both love and tension are in the air, sing. If not with your mouth, sing with your heart. Listen. Good hymns and songs point you to the best place to be at that moment – locked down inside God's secure hands.
2 – By the Cross
The second place is Golgotha, where Jesus' Cross was pinned down to the ground. Tradition calls it a mount, or a hill. But what we know for sure is that it is the Place of the Skull. After Jesus was crucified there though, it may as well also be called not only the place of the head (skull) but also the place of the Heart. There, at that ominous place, we find:
_Pain – Probably there was not a place in Jesus' body that was not aching in extreme pain. Stricken, smitten and afflicted, his body hangs on the tree aching not only for physical pain, but because of the sins of the entire world.
His pain heals our pain. The pain provoked by sin, converted in all sorts of problems we bear in life. By His cross we find a place of relief, comfort and peace.
_Sorrow and Loss – It is hard to fathom the sorrow felt by Jesus' mother, the other women and all of his friends who witnessed that grueling, horrifying scene. Can you imagine someone you love nailed to a cross, dying slowly of asphyxia and you can do nothing? Well, we can sort of feel part of it with the corona virus, when it claims a life. Asphyxia and slow death, as we can do nothing but watch it all unfold before our electronic eyes.
At that place we find comfort for our sorrows and losses. It will still be hard as it was for those people seeing Jesus on His Cross. But that is the only place where we can find real comfort for real life. Because He didn't die of natural causes only, but He gave His life willingly, for us.
_Fulfillment, tetelestai – There are so many things in life that are unpredictable and so many of them that don't come to a close, or don't present a full meaning we can grasp. For some in Jerusalem on that Friday, that might have seemed another senseless death. Jesus however proclaims. It is finished. Everything fell in place, in its precise and specific place, and His Work was done. Jesus defeated Sin, Devil and Hell, to give us by faith forgiveness and eternal life.
In the midst of senselessness and doubt that life may present you with from time to time, look to that place – His Cross. Let those words again take place in your ears and heart – tetelestai. The sense and completion of His work brings sense and fulfillment to our hearts.
3 – At the Empty Tomb
And our third place on this Easter day is a glorious, joyful one. The place where Jesus was placed after His death. The empty place. The place where death was killed and life placed its wonderful grip in our lives by faith. It's important to remember though that as happy as it is, that place also comes with the rollercoaster like type of feelings that permeate our existence as sinful human beings.
-Surprise and Astonishment – Those who went to the tomb were astonished by the empty place they found. The promises of Jesus didn't come to mind, they were clouded by sorrow and frustration. But surprise was there. Life was there. All because Jesus wasn't. If Jesus was still there, then hope wouldn't be anymore.
You will be surprised in life by Jesus provision. When sorrow and frustration cloud your understanding, remember that empty place. Remember that there was no body, but there was Gospel hope and proclamation. Remember, even when you think "Jesus isn't there", that is good news. For He is always where He wants to be, to make the best for our faith, and for our life. Remember that when you think your hope is gone, you will still be astonished by God's action in your life through Christ.
"Connecting the dots" – The empty tomb is a place to connect the dots. From there on, things start to sink in and the disciples, and all who believed in Jesus, start to see the big picture, the grand design, the Work of Love in its completion.
We can't connect the dots of everything that happens in life. But Jesus doesn't leave us hanging by a thread when it comes to His Word. As we read the Bible, learn and inwardly digest it, the Holy Spirit connects the dots to keep us unwavering in our faith that the Resurrection is not a myth, or hallucination, or a story created to try to make sense of things.
_Hope and Life – The Empty tomb is the place of Hope, Life. Not in a mere secular sense, where we "hope things get better" or we want to "live life to the fullest". Hope and Life here are placed in the hands of the one who was in those three places to assure us that Hope is Alive. Life is alive. Hope and Life point to a Place – Jesus hands. Jesus heart. Jesus Home.
Last Friday Pastor Giese preached to us under the theme "were you there?" even when we weren't physically there, we were there because of or Sins and because of His redemptive work. Those places are important, for in them we see all about our life. Feelings, actions, mistakes, redemption. But above all they are so important because we see all about Christ's work.
That's why we place our faith in Him
That's we In His presence is the place to be
That's why the Bible is the place to meet him
That's why His table is the place to be fed by Him
Our life happens in places. The different, important places God places us at to live in Him and to serve our neighbor. Places where we can remember the good things God has done in the past, and place in His hands our dreams and hopes. Today is the Day and Place where our life is happening, our faith is being nurtured. Easter Day, Christ is risen, He is Risen indeed. Specifically, we are in this place right now, because we Place faith in Him. We are in this place because here we are renewed in our certainty of Jesus' Resurrection as a fact, in time and place, and as the victory of life. Most important of all, this is the place we are reminded that because of Christ's resurrection, Heaven is Home. And, as we know, there is no place like home. That is the stage where our life will take place on a never ending way.
Cc - On a final note, thinking of all these places 2000+ years ago, I came across these lines from the murder scene in Julius Caesar. The assassins are washing their hands in Caesar's blood. Cassius says:
Stoop then, and wash. — How many ages hence
Shall this our lofty scene be acted over,
In states unborn and accents yet unknown!
And also Psalm 22: 30 "Posterity shall serve him; it shall be told of the Lord to the coming generation;"
From those three places, Christ's message travels to other existing places, and to so many states, places and languages then yet unknown. It came to us, and it may still come to many more.
When Jesus' Easter Victory Message - which is not a play, but factual History - comes to new places, more people by the action of the Holy Spirit will become able to see the Truth. Jesus. Then as we know, and experience in our place in our daily life, when you see Truth, you see life from a completely different, secure and beautiful place.
Source of the image: https://www.pexels.com/photo/white-concrete-building-under-blue-sky-6477400/
---