The Test of Humility / Luke 18:9–17 / Pr. Ted A. Giese / Sunday October 23rd 2022 / Season Of Pentecost / Mount Olive Lutheran Church
---
---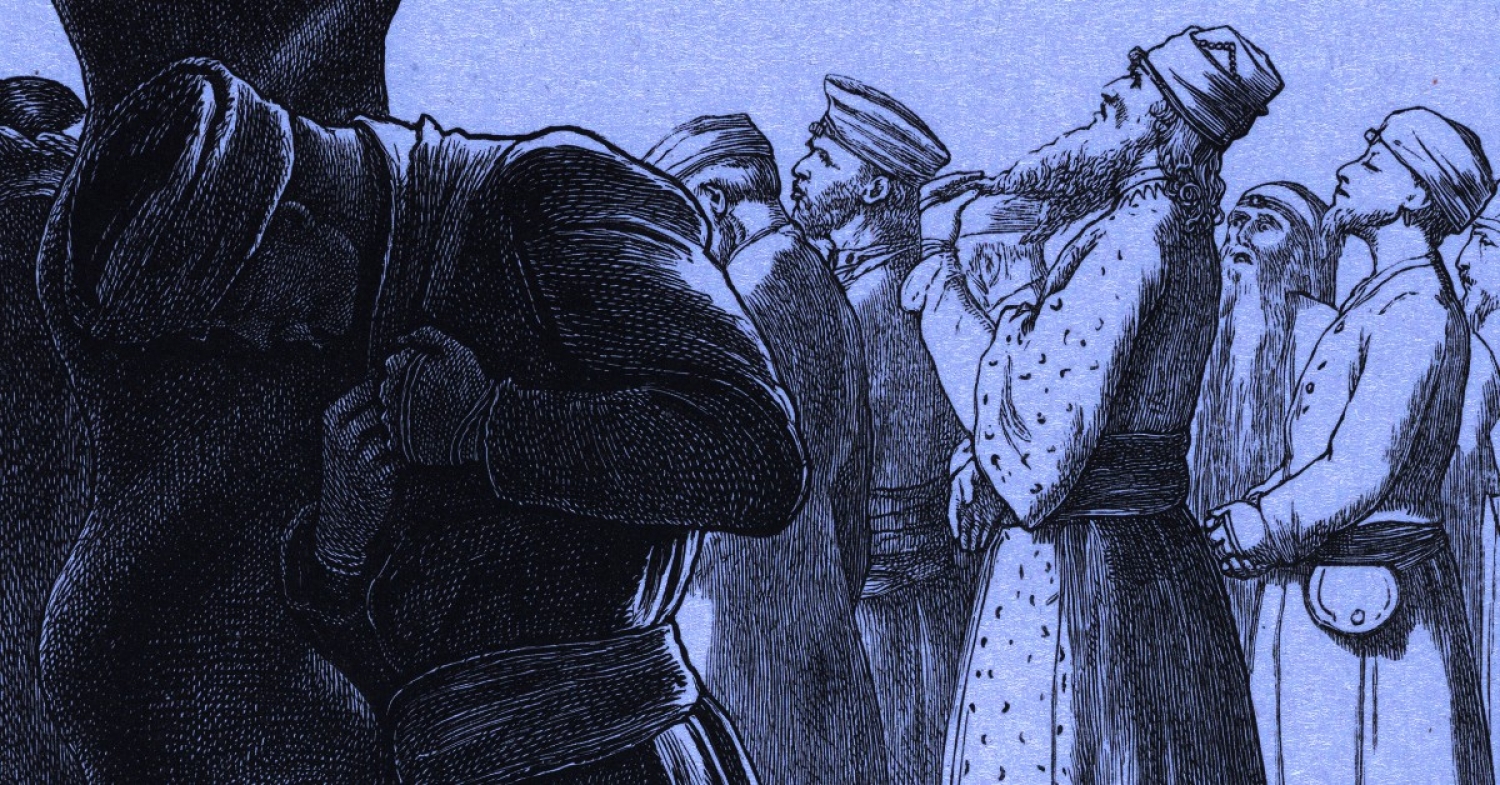 Mount Olive Lutheran Church / Pr. Ted A. Giese / Sunday October 23rd 2022: Season of Pentecost / Luke 18:9–17 "The Test of Humility"
[Jesus] also told this parable to some who trusted in themselves that they were righteous, and treated others with contempt: "Two men went up into the temple to pray, one a Pharisee and the other a tax collector. The Pharisee, standing by himself, prayed thus: 'God, I thank you that I am not like other men, extortioners, unjust, adulterers, or even like this tax collector. I fast twice a week; I give tithes of all that I get.' But the tax collector, standing far off, would not even lift up his eyes to heaven, but beat his breast, saying, 'God, be merciful to me, a sinner!' I tell you, this man went down to his house justified, rather than the other. For everyone who exalts himself will be humbled, but the one who humbles himself will be exalted."
Now they were bringing even infants to Him that He might touch them. And when the disciples saw it, they rebuked them. But Jesus called them to Him, saying, "Let the children come to Me, and do not hinder them, for to such belongs the kingdom of God. Truly, I say to you, whoever does not receive the kingdom of God like a child shall not enter it."
Let us pray: May the words of my mouth and the meditations of all our hearts be acceptable in Your sight O Lord. Amen.
Grace peace and mercy to you from God our Father and from our Lord and Saviour Jesus Christ. Good Christian Friends. "The first test of a great man is his humility."[1] Our Old Testament Reading recounts the tragic murder of Adam and Eve's son Abel at the hands of his brother their oldest son Cain.[2] And why did Cain murder his brother? Because Cain thought he was better than his brother Abel and he resented him and it filled him with anger; Cain displayed no humility before his brother or his parents or God. Cain did not like that his younger brother found favour with God and that God had no regard for his own offering, God even warned Cain where this would lead when He said to Cain, "If you do well, will you not be accepted? And if you do not do well, sin is crouching at the door. Its desire is contrary to you, but you must rule over it."[3] So in our Old Testament reading we have two men before God in prayer and in our Gospel Reading we have Christ Jesus, who is God, telling a parable, a kind of story for teaching, about two men in prayer before God, the tax collector and the Pharisee.
The Old Testament reading is the cautionary account that warns us of the same thing that the Epistle of Saint James warns when James reminds us that, "each person is tempted when he is lured and enticed by his own desire. Then desire when it has conceived gives birth to sin, and sin when it is fully grown brings forth death."[4] In the case of Cain and Abel it was Cain's desire for approval and lack of humility before God and resentment toward his brother that conceived sin and brought forth the death of Abel by Cain's murderous hands. The parable in the Gospel Reading has Jesus asking the hearer to consider their own heart, the nature and quality of their humility, and how they approach both God and their neighbour. This is what is before you today. Do you think you are better than others based on your thoughts words and deeds, do you self justify what you think, say and do that breaks God's law, do you resent the approval, success, fame and or fortune of others or are you fighting the good fight to come before God like the tax collector in the parable who knows he's a sinner in need of mercy? "The first test of a great man is his humility."
While teaching about Cain and his brother Abel the Rev. Dr. Martin Luther commented that "we [as faithful Christians] teach that a person rather than their work is acceptable by God and that a person does not become righteous as a result of a righteous work, but that a work becomes righteous and good as a result of a righteous and good person … God has regard for Abel, He has regard also for his offering; and because He has no regard for Cain, He has no regard for his offering either."[5] Therefore some might look good in the eyes of the World at this very hour by the standards of the World today but in the eyes of God they would simply be unacceptable, while some others might in the eyes of God this very hour receive favour from God while the World looks at them today and sees one who is simply unacceptable. This, by the way, if you haven't noticed, is happening more and more today, where the Christian is unacceptable in the eyes of the World and yet receives favour in the eyes of God.
But what is it that makes us acceptable? Think on it, a Christian can do all the same good works and charitable gracious deeds that a none-Christian does and the World will look with contempt upon the Christian, why? Anyone who hates Jesus or is ambivalent towards Him will feel the same way towards the Christian, towards you. In your baptism you are clothed in the righteousness of Jesus and so what Jesus says is true when He says, "If the World hates you, know that it has hated Me before it hated you. If you were of the World, the World would love you as its own; but because you are not of the World, but I chose you out of the World, therefore the World hates you. Remember the word that I said to you: 'A servant is not greater than his master.' If they persecuted Me, they will also persecute you."[6] Strong words from Jesus, true words. You are righteous, in the eyes of God not by what you do but because of who He is; you are acceptable in the eyes of God, you are favoured in the eyes of God because you are clothed in Christ Jesus and when God the Father looks at you He sees His Son Jesus. And Jesus who had the perfect faith of a child towards His heavenly Father, by the power of the Holy Spirit, grants this faith to you giving it to you as a gift and with it gives you the kingdom of heaven.
Under the righteousness of Christ Jesus we live our lives, and as we live them we still wrestle with sin and doubts and troubles physical, mental and spiritual so we need to always have cultivated in us a spirit of repentance and humility. We would rather be Abel than Cain, we would rather be the tax collector who comes in prayer to God saying 'God, be merciful to me, a sinner!' than the Pharisee, we want to grow in faith that we don't then likewise turn and say "Lord, look how humble I've become I am more humble than that Pharisee over there."
So how do we learn repentance and humility before God and neighbour? Well if we're wise we learn from our mistakes, but in order to do so we need to know where we have failed so we study and take to heart the 10 Commandments: do this daily, and keep them ever before you. We listen to God's Word read to us and in sermons, gleaning from them what is needful in our lives. And week in and week out we say, before almighty God in earshot of our closest neighbours these words, "I, a poor, miserable sinner, confess unto You all my sins and iniquities with which I have ever offended You and justly deserved Your temporal and eternal punishment," I a poor sinner in need of mercy. The proud heart hates these words. The heart of sin wants nothing better than to run away and hide under the rocks of the mountains rather than say them; the arrogant heart would rather come before God saying, 'God, I thank you that I am not like other men, extortioners, unjust, adulterers, [I'm not a murderer like Cain, I'm not] even like this tax collector [who has betrayed his people to a foreign government for money and financial gain]. I fast twice a week; I give tithes of all that I get.'" See look how good I am! No sooner have you gotten off of the merry-go-round-of-pride than it has spun back around offering you a place to get back on again.
Jesus ends His parable saying, "For everyone who exalts himself will be humbled, but the one who humbles himself will be exalted," therefore turn your eyes off of yourself and turn them to Christ Jesus. He is the picture of perfect humility, He is perfect humility. Look upon Him to see what humility looks like. The best place to look to see Jesus' humility is to look upon Him outstretched upon the cross of His crucifixion.[7] In the Hymn "Stricken, Smitten, and Afflicted"[8] which recalls the crucifixion we sing, "Ye who think of sin but lightly Nor suppose the evil great Here may view its nature rightly, Here its guilt may estimate. Mark the sacrifice appointed, See who bears the awful load; 'Tis the Word, the Lord's anointed, Son of Man and Son of God." The whole hymn is a crucifix, not made of wood or stone, or brass or bronze, but of words and poetic phrases, of musical notes and voices raised in song all painting a picture of Jesus' humility: God of God, Light of Light, very God of very God, begotten not made, stripped and beaten, bruised and bleeding, stricken, smitten, and afflicted, dying on the tree because the High Priests and the Pharisees and the Elder's of the people resented Him and thought themselves better than Him, more righteous than He. Because they though their sacrifices should be accepted by God and not His.
At the cross Jesus your elder brother put you first; Jesus is His brother's keeper. He did not murder you. He died so His younger brother, His younger sister, all His brothers and sisters, indeed the whole world could live and have life in Him. He did not resent you, He loves you. Jesus your elder brother took on all your sin, He who knew no sin was made to be sin,[9] and with His dying breath this same Jesus commends Himself into His Father's hands with the faith of a child saying, "Father, into your hands I commit My spirit!"[10] And in those words echoes forth your humble prayer of repentance, 'God, be merciful to me, a sinner!' only a little while earlier before His death as He hung dying and the crowd jeered and Him, bullying Him and heaping abuse upon Him Jesus who was without fault, holy and righteous and had every right not to forgive, every right to withhold the forgiveness of sin prayed, "Father, forgive them, for they know not what they do."[11] Jesus does not point at them and say 'Father, I thank you that I am not like these other men.' Jesus doesn't say, 'I healed the sick, I feed the hungry, I cast out demons, I taught Your Holy Word in their streets.' No in perfect humility and childlike faith He simply puts Himself in His heavenly Fathers hands. He fought the good fight, He finished the race, He kept the faith[12] to the bitter end so that you in Him can do likewise, so you in Him can find forgiveness when you are headed down the path of Cain, when you have let sin which crouches at your door have its way with you, when you have not ruled over it but let it rule over you.
What does Saint Paul say in Romans? He says, "For by the grace given to me I say to everyone among you not to think of himself more highly than he ought to think, but to think with sober judgment, each according to the measure of faith that God has assigned."[13] … "Let love be genuine. Abhor what is evil; hold fast to what is good. Love one another with brotherly affection. Outdo one another in showing honor. Do not be slothful in zeal, be fervent in spirit, serve the Lord. Rejoice in hope, be patient in tribulation, be constant in prayer. Contribute to the needs of the saints and seek to show hospitality. Bless those who persecute you; bless and do not curse them. Rejoice with those who rejoice, weep with those who weep. Live in harmony with one another. Do not be haughty, but associate with the lowly. Never be wise in your own sight. Repay no one evil for evil, but give thought to do what is honorable in the sight of all. If possible, so far as it depends on you, live peaceably with all."[14] This is how Cain was to live with his brother Abel, and this is how we are to live with each other, in Christ Jesus, before our heavenly Father, each seeking ways to outdo each other in humility and love. This is how Christ lives with you. Grow in this; grow in Christ Jesus, remembering that you do so clothed in His righteousness and goodness a forgiven sinner called to a life of humility.
"The first test of a great man is his humility." Cain, you and I, we have failed this test: Christ Jesus has passed the test; and this now, in Christ Jesus, has been added unto you by the grace of God. Amen.
Let us pray:
Lord have mercy on us, Christ have mercy on us, Lord have mercy on us, "take our minds and think through them, take our lips and speak through them, take our hearts and set them on fire; for the sake of our Lord and Saviour Jesus Christ, Amen.
[1] Quote from John Ruskin (1819-1900) from Modern Painters (1856) entry 11 under Greatness, Oxford Treasury of Sayings and Quotations, Oxford University Press 2011, Pg 197.
[2] Genesis 4:1-15
[3] Genesis 4:7
[4] James 1:14–15
[5] Lectures on Genesis Chapters 1-5 Volume 1, Luther's Works American Edition, Concordia Publishing House 1958, Pg. 257.
[6] John 15:18–20
[7] Philippians 2:8
[8] "Stricken, Smitten, and Afflicted," Lutheran Service Book, Concordia Publishing House 2006, hymn #451 Stanza 3.
[9] 2 Corinthians 5:21
[10] Luke 23:46
[11] Luke 23:34
[12] 2 Timothy 4:7
[13] Romans 12:3
[14] Romans 12:9–18
Photo Credits: Tinted Detail The Pharisee and the Publican (The Parables of Our Lord and Saviour Jesus Christ) from wikimedia commons; Detail of Palma il Giovane's Cain and Abel (1576) from jenikirbyhistory.getarchive; Dark Heart from unsplash; Detail of Judges Gavel from unsplash; baptism from schultzphotographic; Detail of Open Hands from pexels; Detail of Merry-Go-Round from unsplash; Detail of Crucifix from pexels; Hand with Christian Cross from pexels.
---