Rev Donald A Koch Funeral Sermon – Matthew 6:33 May 5th 2023 / I Wish You Well
---
---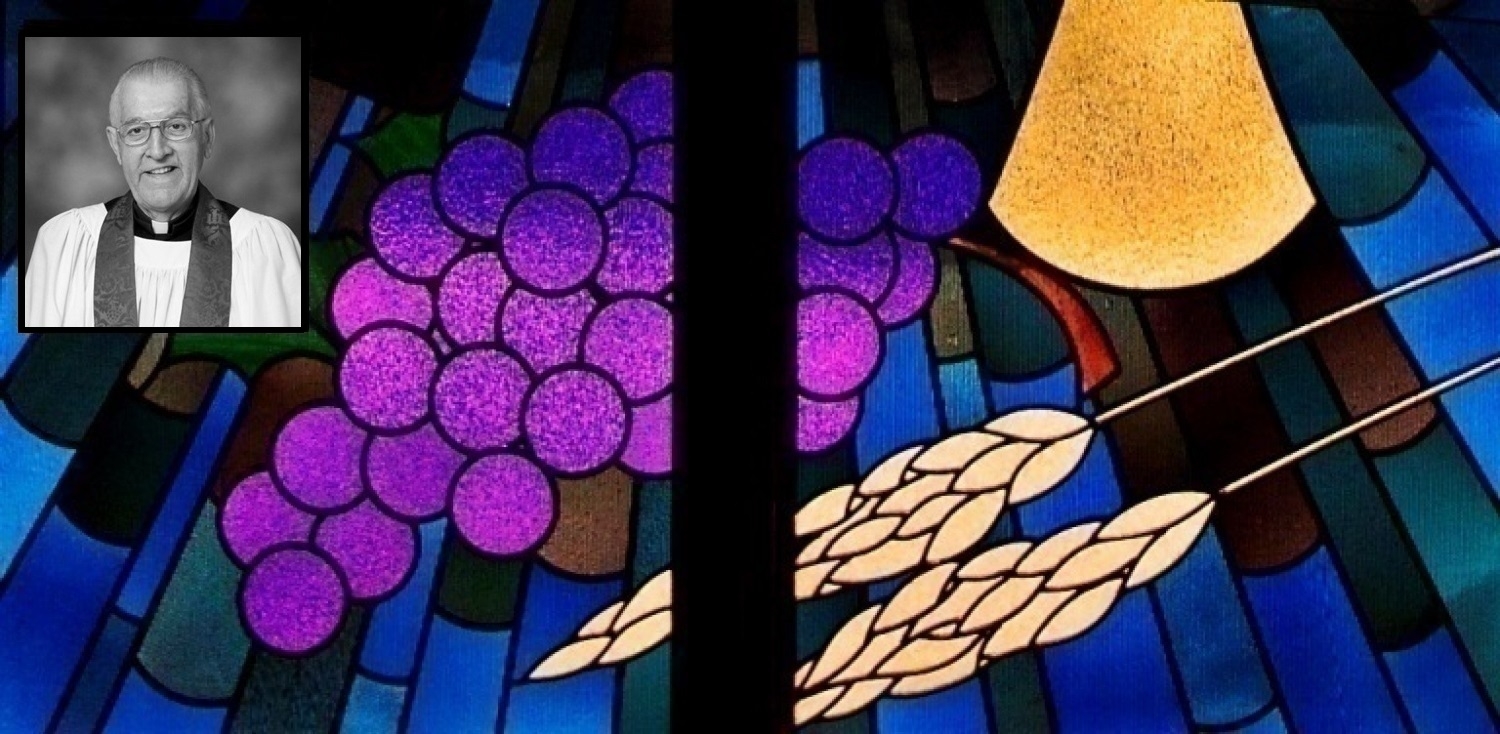 Rev Donald A Koch funeral - Mount Olive Lutheran Church / Rev. Todd Hoeffs / Friday May 5th 2023: Season of Easter / Matthew 6:33 "I Wish You Well"
"But seek ye first the kingdom of God, and His righteousness; and all these things shall be added unto you."
May God fill you all with great hope and joy and peace in your believing, Amen.
The message today is from Don's Confimation verse, Matthew 6 verse 33, "But seek ye first the kingdom of God, and His righteousness; and all these things shall be added unto you," In the name of the Father and of the Son and of the Holy Spirit, Amen.
My heart is full today. This is humbling honour. Sharing God's Word in a service with Don for the last time. This has been a precious gift to me, comforting Don's family as you hold a very treasured place in my life. Dear Don said every funeral is a privilege, this one an immense privilege. Sharing the Gospel of Christ today With people who have only shown me a loving, supportive, caring relationship, a relationship I'd have never known If God hadn't winged my ministry journey to Regina back in 1998. I can still see Don that hot, humid mid-July day. Driving up in my big old Buick to the back of Grace Church with an electric gate and barbed wire at the top of the fencing. I wondered – [pause] where am I!? Standing by the back door. Crisp white dress shirt, black and red paisley necktie. His first words: "You're not gonna last around here with those NY state license plates".
Direct, but warm. Genuine. Honest. Don was the real deal. And we got along famously right at the start. He was in charge, and I had much to learn. That's how it should. We pastors get into trouble when we think we know more than we do. He had much wisdom to impart and I loved every minute of it. [It helped I met my future wife there of nearly 24 years!!!] Don holds a spot in my life And in my family's life very few if any other holds. This had all been God's plan and purpose. Don and I shared the same value system. Unflinching LOYALTY. Built on levels of trust. Having each others' backs. Unquestioning support. No matter what. He expected it as fervently as he gave it. God set His deep loyalty within him at the waters of Baptism. Creating a spirit of certainty within himself for a ministry calling. That is why I've chosen Don's confirmation verse for this message. "Seek ye first the Kingdom of God and His righteousness."
Not long after his confirmation God led him on a determined pastoral path. God led him through the years of schooling And guided him back here in SK for nearly all of his professional life. Rooting him where his faith life had been formed. Where he built a church and helped create a family life. Back in his Melville days, he told me he "bugged the other church's organist until she said yes". I knew he meant marriage. 59 years of life together. Not all of it easy, not all of it joyful, not all celebratory. Pastor's wives, sons and daughters have tremendous honour For sharing a person, they love so dearly With the church and the wider community. It is not easy. It is not without sacrifice and sorrow and suffering. Seeing all of you here like this today Marguerite, David, Tracey, Kim and your families, This is his love, his joy, his legacy. [I know your Dad loved having you home with him these last 8 years.] Sure, he kept track of his many baptisms, weddings, funerals, visits, But the times he smiled at his love for you was countless. Love keeps no score of wrongs. Love covers over a multitude of sins. Love never ends And love is the greatest. Love is the heart of God's Kingdom, which Don did seek in this life.
This seeking is not the same as looking for it as if its lost, The kingdom is within the hearts of all who believe. The kingdom is wherever Christ lives. This seeking is more treasuring Jesus Christ in a life of worship Because our desires and God's desires line up. Line up in the cross hairs of Calvary. God's Kingdom is simple. Love the Lord. Love your neighbour as yourself. Love in what you say, what you think, what you do. Don was a man of action. He said it. He meant it. He did it. I used to think he and I were such different people. But we were the same, just expressed it differently. Academics and book learning remained his strong suit. I though he had a kind of photographic memory. A scholar in the original Biblical languages. Knew Lutheran doctrine inside and out. Very intelligent, remembered what he read and heard. He made people feel very included and important. He had a very clearly delineated right and wrong inner compass. Forged by the heat of experience and the sweat of shouldering the cross of Jesus. Whose blood covered him and set him free from all of his sins And his spirit-filled motivation for everything he did.
I know he never hesitated telling you kids when you were wrong. I also heard him tell parishioners when they were wrong. But there was always LOVE. Love of God. Love of the truth. Love of what's right. Love of the person. Don was un-shakenly Christ centred & people-focused. He knew nothing other than serving people with the Gospel That Jesus died for them and rose again to fill all lives with forgiveness. Because Don's Lutheran theology had been directly connected to humanity. Christianity is only lost when faith becomes divorced from helping people. That the heart of seeking God's Kingdom, Because this globe of people had been valuable enough for God To send His Son to demolish the devil and enliven every person with grace. I think that's why Don embraced a life of serving and tending to people in their need.
As a pastor of his era meant being up a pedestal for all to see. His life was a very public existence. I'm sure it felt at times for you there was no escape, no hiding, no reprieve. Pastoral stature casts a long shadow at times. He devotedly used it to his advantage at church and at home. In seeking God's Kingdom, the Holy Spirit led him into the lives of people from of all walks of life No matter how wealthy or needy Be they addict or troubled; Chronically ill in nursing home or shut in house bound. All held value. All in need of pastoral care. Many a time I heard him say— "If you're not there when people need you, they won't be there for you when you need them.' I'll never forget the time in his office at Grace, 2 minutes to service time, A sad, tired looking older lady [whom he knew] standing in front of him, in the doorway. A recovering alcoholic who feared communing on the wine. "Oh, you better be up at the rail and you take a big sip Because you need it more that I do. Jesus' Blood can't hurt ya." And she did. There's that love in seeking God's Kingdom in pastoral care. How incredible this grace That even moved Don to lead a suicide funeral in Melville In the actual church sanctuary [which wasn't done] In the 1960s. That's Gospel ground-breaking ministry. Why? Why is that so important? Its sends a clear message. Love God. Love your neighbour. Helping hurting, desperate people with God's grace. Everyone needs the cross and resurrection of Jesus in their lives to quiet their minds and dry their tears.
Seeking the kingdom of God shoves us into the world. Because we have faith and believe, Because we are a "little Christ" to those we see, We encounter them for good or for bad. That is our legacy, we who are still living. The Righteousness part of God's Kingdom. Righteousness which sounds wonderful But is a very practical word. Anchored in the Old Testament faith Of not being right as in having all the answers, But LIVING right. Doesn't mean you're always CORRECT, But the Living God inside your heart keeps you right. Right with Him! And what that looks life? Living out God's justice. And what that looks like? Loving Your Neighbour As yourself. Easing other's burdens. Listening Praying Encouraging. Building relationship Winning trust Being there for them. Not just talking about Christ, but BEING CHRIST to others because He loves you. Unconditionally. Completed. "It is finished" on the cross kind of love. Love and serve and help That is the mission Of the church on earth And we who gather today thanking God for Don.
Don turned 65 my vicarage year. We remained close for the 24 years that followed. As different as we many have seemed, We strengthened each other's weak spots Always celebrating our like-mindedness. Laughing. Commiserating. Supporting. Don had been my mentor and my equal, A trusted colleague and loyal confidant. As much a brother as a father. As I toughened up with experience Don softened with calm devotion. That fierce loyalty. The bond of love and faith. Telling the truth no matter how hard it is to hear. Giving me an unforgettable piece of advice: A piece of advice that can help all of us today when things feel out of control: "don't be so tough that you lose your compassion. There's ministry opportunities around every corner. Don't stop seeing it." No turmoil in the church had ever been so severe that having a heart of kindness could ever diminish.
You and Don chose to make me a part of your family, Welcomed me and my own grown family with open arms [and peanut marshmallow squares & matrimonial cake] For which I am eternally grateful. Don's love and admiration and trust for you, Marguerite, never wavered. No matter how hard it was at times. And I know there were those tough times. We pastor husbands and fathers are a so often too large presence to be around. Too many times church came first. Parishioner's emergencies taking priority over Kids' school meetings or family events or games or appointments. It's very difficult doing family and church family well. God forgive us for such times we placed our loved ones last. Don gave a lot at the office and crashed in his red chair at home. I heard from my own 15 year old daughter recently That as a pastor "I'm helping people know God loves them as they are And we already know that thanks to you." Wow. Sharing that is our legacy of faith. Seeking the Kingdom and then all these other things God gives come and go. Vacations, family visits, travelling, going to the pool – circles of friends which gets smaller and smaller with age – Don called a few people he liked, "gems." Don you are a gem. A rare person with whom I share no blood line Other than the Blood of Christ which adopts us all into one family, The Kingdom of God in Jesus waiting for us in Heaven, Where Don is now, at rest.
"Don, I wish you well." That was a phrase he used sarcastically when things weren't going his way, but they have gone his way now. In God's way. As I said to you in hospital facetime, I say now. Don, we will "keep the faith" because of Jesus, Who dwelled in your heart for 89 years, You KEPT the faith.
Until we all meet again in the Kingdom of God. We wish you well. Amen.
---