"Licht in der Dunkelheit" / Johannes 1, 1-14 / Pr. Lucas A. Albrecht /Deutscher Gottesdienst (GERMAN Service), Samstag 21. Dezember. 2019 / Weihnacht - Christmas
---
---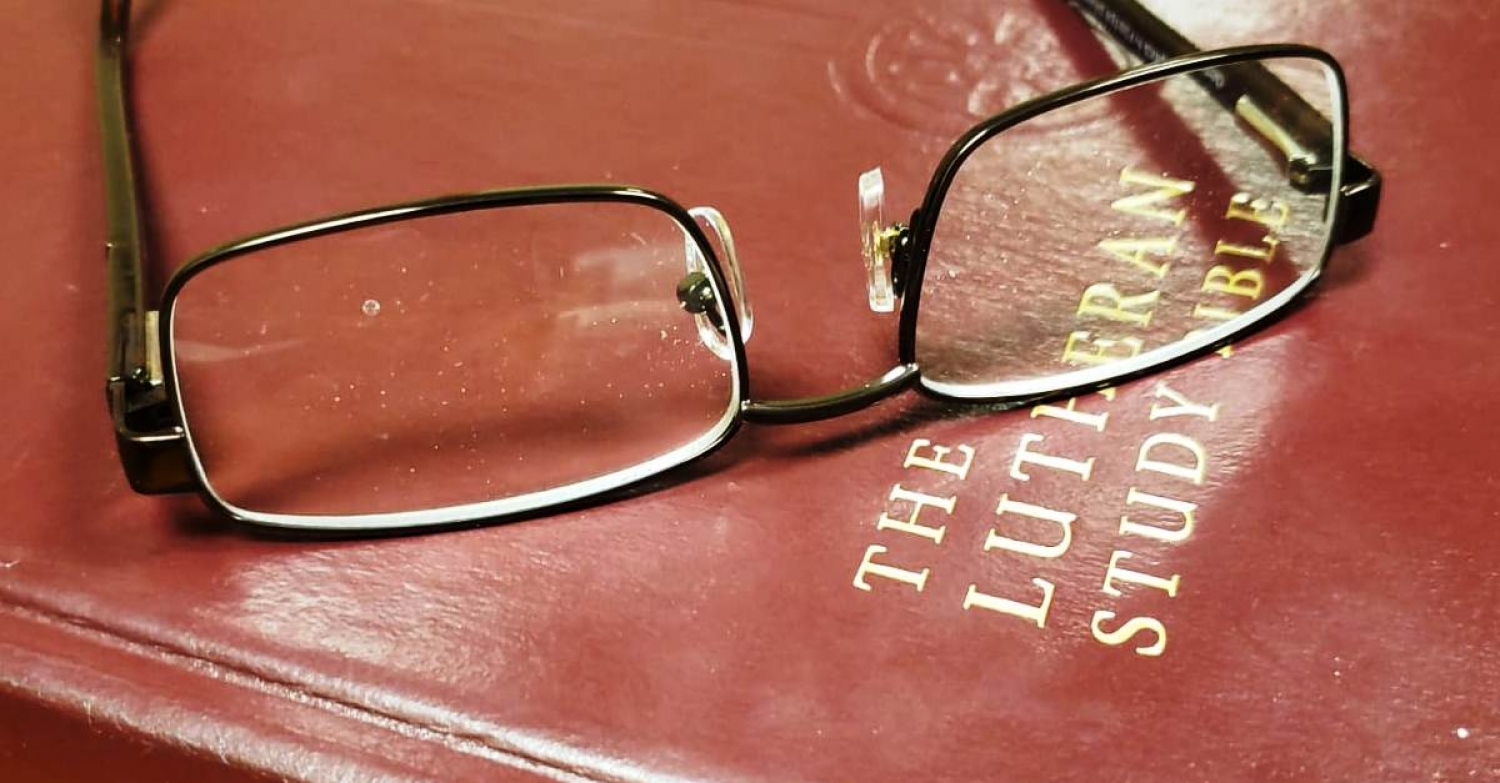 [See ENGLISH version below}
Text: Johannes 1: 1-14
Thema: Licht in der Dunkelheit - Weihnacht
___________________________
Intr - Menschen mit Sehstörungen haben eine wertvolle Hilfe, um besser zu sehen: die Brille. Diese Erfindung verleiht verschwommenen Augen die Klarheit und Präzision, die sie so sehr benötigen.
Aber wenn Sie einfach sich in einem dunklen Raum befinden, macht es dann einen Unterschied, eine Brille zu tragen oder nicht? Klar, sicher nicht ist die antworte. Wir können bei Umgebungslicht nicht sehen, wenn...es gibt kein Licht! In diesem Fall helfen uns keine Objektive auf der Welt, denn Licht ist für das Sehen unerlässlich. Tatsächlich können wir die Dinge so sehen - denn Licht reflektiert sie.
Um sehen zu können:
_wir brauchen unsere Augen;
_wir brauchen möglicherweise eine Brille;
_aber vor allem brauchen wir LICHT.
Lassen Sie es uns nun auf unsere Sichtweise des Lebens und seines Lebens übertragen. Manchmal verbringen wir die Zeit in der Dunkelheit und versuchen dort drin, gute Sachen, zu sehen. Manchmal verlieren wir all unsere Anstrengungen, weil wir darauf bestehen, die dunkelsten Straßen zu nehmen, während wir versuchen, dort klar zu sehen. Das ist reine Zeit - und Arbeitsverschwendung. Wenn wir dort Zeit verbringen, oder mit Menschen, die sich auf die dunkle Seite des Lebens konzentrieren, oder wenn wir "nachts unsere Pläne schmieden" oder unser Leben in faulender Dunkelheit der Verzweiflung leben ... dann können wir nicht erwarten, gut zu sehen entweder. Hier würde nicht einmal eine Lupe helfen, das größte Problem von allen zu überwinden: den Mangel an Licht.
Das ist eine gute Erinnerung, wenn wir die Weihnachtsbotschaft in einer säkularisierten Gesellschaft verbreiten. Es hilft nicht einfach, die Augen der Menschen zu öffnen. Es hilft nicht, ihnen einfach unsere Brille zu leihen - auch weil der Glaube persönlich ist. Was wirklich hilft, ist die Ankündigung des Lichts, das in die Welt gekommen ist, um sie zu erleuchten und uns zu Kindern Gottes zu machen. Jesu Licht ist das, was die Menschen brauchen, um Weihnachten zu verstehen; und Ostern auch; und jede einzelne Lehre aus der Schrift.
Von der Alte Testamente Lesung wir hören:
Jesaja 52,8-10: " Deine Wächter rufen mit lauter Stimme und jubeln miteinander; denn sie werden's mit ihren Augen sehen, wenn der Herr nach Zion zurückkehrt. Seid fröhlich und jubelt miteinander, ihr Trümmer Jerusalems; denn der Herr hat sein Volk getröstet und Jerusalem erlöst. Der Herr hat offenbart seinen heiligen Arm vor den Augen aller Völker, dass aller Welt Enden sehen das Heil unsres Gottes."
Von Psalm 2 hören wir dass "Er hat zu mir gesagt: »Du bist mein Sohn, heute habe ich dich gezeugt." Und: "Wohl allen, die auf ihn trauen!"
Und die Epistel nach der Hebräer spricht über die Ausstrahlung seiner Herrlichkeit : "Er ist der Abglanz seiner Herrlichkeit und das Ebenbild seines Wesens und trägt alle Dinge mit seinem kräftigen Wort."
Jesus ist das Licht von oben vor unseren Augen , so dass wir durch die Linsen des Glaubens Ihn als den Babykönig, Retter, Erlöser sehen können; Freund; Emannuel, Gott mit uns.
Manchmal haben wir das Gefühl, in der Dunkelheit zu laufen. Wir wissen nicht, wohin wir gehen, wir können nicht viel voraussehen. Oder manchmal ist es ein gerechter und unbestimmter Moment wie der Sonnenuntergang, den wir nicht genau sagen können, ob es das Ende des Tages oder der Anfang der Nacht ist. Es ist genau in der Mitte von beiden. Nicht definiert. So wie unser Leben manchmal feststeckt. Ist es das Ende des Tages oder der Anfang des Tages? Geht meine Ehe zu Ende oder fängt sie wieder an? Was ist mit meinem Beruf, meinem Privatleben? Beziehungen ... Wir sind da und fühlen uns mitten in etwas - oder mitten im Nirgendwo.
Auch hier müssen wir nicht versuchen, die Augen weiter zu öffnen oder unsere Linsen sauberer zu waschen. Wir brauchen das Licht der Welt. Er lässt uns sehen.. In Ihm haben wir einen festen und sicheren Platz. Gott ist Sicherheit , Definition für unser Leben , ob an einem sonnigen Tag oder in der dunkelsten Stunde. Wenn es lächelt und aufmuntert oder wenn Tränen rollen. In jenen Momenten, in denen Einsamkeit und dunkle Zeiten nahe kommen, ist Er noch näher. So nah wie als sein Sohn menschliche Gestalt annahm, wohnte er unter uns und gab sein Leben, damit wir im Schatten seiner Gegenwart leben können. Durch Glauben nimmt und trägt er uns in seinen Armen. Auf jeden Fall der beste und sicherste Ort der Welt. Wenn sich der undefinierte Moment des Sonnenuntergangs an das Licht erinnert, das der Dunkelheit Platz macht, finden wir in Ihm die Dämmerung: Die Dunkelheit verschwindet vor der Sonne.
Johannes lässt uns wissen, dass wir inmitten der Dunkelheit Hoffnung haben. Wir haben Licht. Jesus Christus. Er gewann für uns ein weites und wunderbares, klares und präzises Umgebungslicht des Friedens in Gegenwart des Vaters. Er wurde Fleisch und wohnte unter uns. Durch den Glauben an Ihn werden wir aus der Dunkelheit in Sein Lichtpanorama gebracht. Wir haben das richtige Glas und wir können das Leben durch die Linsen sehen , die uns den Weg zeigen. In Seinem Licht sehen wir klarer, genauer gesagt - auch Dinge , die unsere Augen nicht sehen können . Mit Ihm zusammen zu sein, erlaubt uns immer zu sehen ... Ihn in Seinem Wort zu sehen; Ihn in Seinen Sakramenten zu sehen; Ihn in unserem Nachbarn zu sehen, wo immer wir die Gelegenheit haben, zu teilen, zu helfen, zu trösten, zu lieben.

Cc - Weihnachtstag ist ein Tag zu erinnern , dass wenn wir in der Dunkelheit gelaufen wären, unser Bestes zu versuchen, die Dinge zu sehen , nur mehr verloren und verzweifelt zu sein, brachte er Licht in der Welt, um unser Leben, in unseren Herzen. Weil sein Licht auf uns und auf die Welt scheint, können wir jetzt Dinge sehen. Klarer, heller und unter angemessenem Licht. Wir können dieses Licht teilen und es über viele Leben reflektieren, die immer noch auf dunklen Wegen wandeln. Dieses Licht ist für uns. Dieses Licht ist für alle. Dieses Licht ist für immer.
************

Sermon – December 21st, 2019
Mount Olive Lutheran Church, Regina, SK
Text: John 1:1-14
Theme: Light in the Darkness – Christmas Service
___________________________
Intr – People who suffer from sight problems have a precious help to see better: glasses. This invention gives blurred eyes the clarity and precision they so much need.
But if you are in a dark room, will it make a difference to wear or not wear glasses? Surely not. We can't see in ambient light when… there is no light! In that case, no lenses in the world will help us, because light is essential to sight. Actually, that is the way we can see things – because light reflects on them.
In order to be able to see:
_we need our eyes
_we may need glasses;
_but above all, we need LIGHT.
Now, let's transpose it to our way of looking at life and living it. Sometimes we spend time in the darkness trying to see good things in it. Sometimes we wear out of all our efforts because we insist in taking the darkest roads as we try to see clearly there. That is just a waste of time and effort. If we spend time there, or with people who focus on the dark side of life, or if we "make our plans by night," or live our lives in rotting darkness of despair...then we can't expect to see well either. Here, not even a magnifying glass would help to overcome the biggest problem of all: the lack of light.
That is a good thing to remember when we share the message of Christmas in a secularized society. It doesn't help simply trying to open people's eyes. It doesn't help simply lending them our glasses – even because faith is personal. What really helps is announcing the Light that came into the World to enlighten it and to make us become Children of God. Jesus' Light is what people need to understand Christmas; and Easter; and every single teaching from the Scriptures.
In the OT reading today we heard:
Isaiah 52:8: The voice of your watchmen—they lift up their voice; together they sing for joy; for eye to eye they see the return of the Lord to Zion The Lord has bared his holy arm before the eyes of all the nations, and all the ends of the earth shall see the salvation of our God.
As we listened to Psalm 2 we were remembered that "The Lord said to me, "You are my Son; today I have begotten you. And: Blessed are all who take refuge in him.
And Hebrews talks about the radiance of His Glory: "He is the radiance of the glory of God and the exact imprint of his nature, and he upholds the universe by the word of his power."
Jesus is the Light from above, ahead of our eyes, so that through the lenses of Faith we can see Him as the Baby King, Saviour, Redeemer; Friend; Emannuel, God with us.

Sometimes we feel like walking in the darkness. We don't know where we are going, we can't see much ahead. Or sometimes it is just an undefined moment, like sunset, which we can't say precisely if it is end of the day or the beginning of the night. It is there right in the middle of both; undefined. Just like our lives sometimes are stuck in. Is it the end of the day or the beginning of the day? Is my marriage coming to an end or is it beginning again? What about my job, my personal life. Relationships… We are there, feeling right in the middle of something – or in the middle of nowhere.
Again, here what we need is not to try to open our eyes wider, or to wash our lenses cleaner. We need the Light of the World. He makes us see. In Him we have a definite and safe place. God is security, definition for our lives, whether in a sunny day or in the darkest hour. When there's smiles and cheering up or when there's tears rolling down. In those moments when loneliness, dark times come close, He is even closer. As close as when His Son took human shape, He dwelt among us, and gave His life so we can live in the shadow of his presence. By faith he takes and carries us in His arms. The best and safest place in the world, definitely. If the undefined moment of the sunset remembers the light giving place to darkness, in Him we find the dawn: the darkness disappearing before the Sun.
John lets us know that in the midst of darkness we have Hope. We have Light. Jesus Christ. He won for us a wide and wonderful, clear and precise ambient light of peace in the presence of The Father. He became flesh and dwelt among us. By faith in Him we are brought out of darkness into His panorama of Light. We have the right glasses and we can see life through the lenses that show us The Way. In His Light we see more clearly, more precisely - even things that our eyes can't see. Being with Him allows us to always see... to see Him in His Word; to see Him in His Sacraments; to see Him in our neighbor wherever we have an opportunity to share, help, comfort, love.
Cc – Christmas Day is a day to remember that when we were walking in darkness, trying our best to see things only to be more lost and desperate, he brought Light to the World, to our lives, to our hearts. Because of His light shining on us, and on the World, now we can see things. Clearer, brighter, and under proper Light. We can share this Light, reflecting it over many lives that still walk in dark ways. This Light is for us. This Light is for all. This Light is forever.
---