Jacob Hodel Funeral Sermon - Psalm 23 April 30th 2019 / The Green Grass of Home
---
---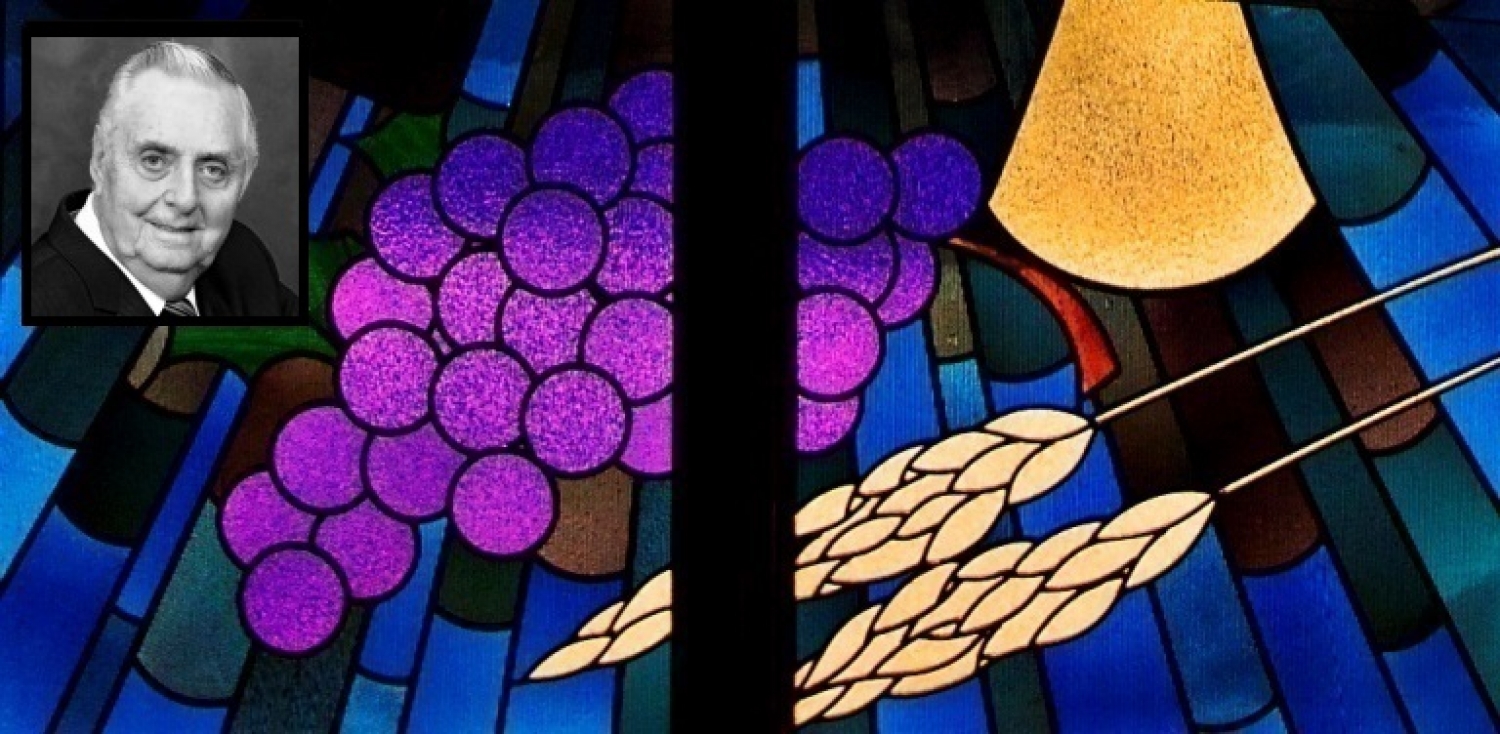 Funeral Sermon for Jacob Hodel - Mount Olive Lutheran Church / Pr. Ted A. Giese / Tuesday April 30th 2019: Season of Easter / Psalm 23 "The Green Grass of Home"
The LORD is my shepherd; I shall not want.
He makes me lie down in green pastures.
He leads me beside still waters.
He restores my soul.
He leads me in paths of righteousness
for His name's sake.
Even though I walk through the valley of the shadow of death,
I will fear no evil,
for You are with me;
Your rod and Your staff,
they comfort me.
You prepare a table before me
in the presence of my enemies;
You anoint my head with oil;
my cup overflows.
Surely goodness and mercy shall follow me
all the days of my life,
and I shall dwell in the house of the LORD
forever.
Let us pray: May the words of my mouth and the meditations of all our hearts be acceptable in Your sight O Lord. Amen.
Grace peace and mercy to you from God our Father and from our Lord and Saviour Jesus Christ. Good Christian Friends. We just sang the hymn, "Precious Lord Take My Hand" in which we sung to Jesus saying "Guide my feet, hold my hand, Take my hand precious Lord, lead me home." In the Gospel of St. John which we heard this morning Jesus promises, "I will come again and will take you to Myself, that where I am you may be also,"[1] and in our Psalm you heard King David say, "Surely goodness and mercy shall follow me all the days of my life, and I shall dwell in the house of the LORD forever," just as you heard David describe the LORD as a Shepherd who leads you beside still waters, restoring your soul, taking care of your wants, even making you to lie down in green pastures. Some of that language, like the picture of us as sheep in a pasture, is poetic and some of it, like what Jesus says before His crucifixion to the disciples in John chapter 14, is specific and concrete. Now Jake loved music, the poetic lyrics, the sound of the notes, the fun of playing it and singing it for others and he specifically asked that today we sing the hymns "Amazing Grace" and "The Old Rugged Cross" and as part of the day today he also wanted you to hear a favourite song of his which we will listen to in the hall during our lunch after the Service. It was one of a bunch of songs that Jake enjoyed playing on his guitar for people, a song called, "The Green, Green Grass of Home." In the chorus of that song Jake would sing, "It's good to touch the green, green grass of home Yes, they'll all come to meet me, arms reaching, smiling sweetly: It's good to touch the green, green grass of home." Again this is poetic but it has a double meaning. It's not just about coming back to the place where you grew up and seeing people you haven't seen for years, it's also a song that can bring to mind the promised happy reunion in heaven with those who have gone on ahead in the faith who we have likewise been apart from and long to see again.
"It's good to touch the green, green grass of home;" … "the LORD makes me lie down in green pastures, leads me beside still waters … restores my soul."
In this life as we live it with all of its ups and downs God the Father provides for you, He does so through His Son Jesus who says of Himself elsewhere in John's Gospel, "I Am The Good Shepherd. I know My own and My own know Me,"[2] this is the same LORD and Shepherd that King David was talking about in Psalm 23 and this Jesus is the one who guided and cared for Jake his whole life, in his mother's womb at the waters of Baptism, through his confirmation of that baptism and his public confession of faith, through his marriage to Eleanor, and his fatherhood to Belinda, Dean, Kenneth, Karen and Lana and grand-fatherhood and like the Psalm says, "Surely goodness and mercy shall follow me all the days of my life," the Goodness and Mercy that King David speaks of in the Psalm is Jesus the Good Shepherd comforting and guiding with His rod and staff even in these last days right through Parkinson's, infections, right through "the valley of the shadow of death," every step of the way Jesus was with Jake leading him home, taking Jake to Himself, guarding Jake's back, following behind him so that Jake would be finally shepherded into the eternal green, green grace of his heavenly home to "dwell in the house of the LORD forever." As the prayer goes, "Christ with me, Christ before me, Christ behind me, Christ in me, Christ beneath me, Christ above me, Christ on my right, Christ on my left, Christ when I lie down, Christ when I sit down, Christ when I arise,"[3] Jesus behind you, before you, with you all the way and always.
And what about you? When a man like Jake dies and is laid to rest we all think about life and death and if you are a Christian you have the opportunity to think about your promised eternal life, you have a chance to think about the everlasting green, green grass of the Father's Eternal Home in heaven, so – again – "what about you?" Are you a sheep of the Lord's pasture, a lamb of His sheepfold and a sinner of His redeeming, is Jesus your Good Shepherd as Jesus was and is and ever shall be the Good Shepherd of Jacob Hodel? What peace and comfort your heart has if you can with confidence say "yes" and what disquiet your heart might have if you struggle to say "yes" or if you, heaven forbid would say "no." You say "I feel lost … if I was a sheep I've long been away from the pasture, I have fallen half ways down the side of a cliff and I'm stuck, I don't know my way home." Dear ones remember again what Jesus says, "My sheep hear My voice, and I know them, and they follow Me."[4] Listen to His voice, listen to the voice of Jesus and hear what He says to you in the Gospel of Saint Luke when He tells this parable, "What man of you, having a hundred sheep, if he has lost one of them, does not leave the ninety-nine in the open country, and go after the one that is lost, until he finds it? And when he has found it, he lays it on his shoulders, rejoicing. And when he comes home, he calls together his friends and his neighbors, saying to them, 'Rejoice with me, for I have found my sheep that was lost.'"[5] … Jacob chose for you to sing it today, and I heard you singing it, "Amazing Grace, How sweet the sound That saved a wretch like me I once was lost, but now am found was blind but now I see," Jesus seeks you out, He is gracious and merciful with you even in your times of struggle. One way that Jesus shows you this mercy is by drawing you here today; yes, here you are and you are hearing Jesus' words, listen to His voice. Jesus brings you home; you do not need to find your way home on your own. The Christian has the promise that Jesus will bring them home to their eternal Home in Him and here in this life you have a home too. Yes you have your family home but also as Christians Jesus has given you this Church home, the House of God the House of the Lord. He calls you to Himself here in this place to listen to His voice. Here in this congregation Jesus feeds and waters His flock: Jacob new this. I was glad to have had the chance to give Jake Holy Communion at this altar rail, in his home and even to bring it to Him the Wednesday before his death at the Regina Lutheran Home: and in all those places I was fortunate to give it to him for his strength preservation in the one true faith, the Christian faith, with Eleanor at his side. This feeding and watering, this home of shelter here from the strife of the world is not only a place for Jacob it is a home away from the home of the Father's Eternal House for you too.
So today as the winter slowly lets go of the earth and the grass begins to green up and life starts to spring forth; as we in the season of Easter remember and think on the resurrection of Jesus and what that means for us, the resurrection of our own bodies on The Last Day, let us not forget that while we burry Jacob today, his life is not over. While his body is certainly dead, asleep, awaiting the resurrection, his soul, his spirit, his life continues to rest in Christ Jesus, yes Jake's life continues in Jesus and Jacob now enters into his blessed rest in Christ, Jake now enters into the happy reunion with all those who have passed on ahead of him in the faith, therefore brothers and sisters "do not forget your place in this." Today, while full of grief, is also a day to listen, not only to the songs we sing together, but likewise to the Word of God, and to the promises that Jesus makes to you there, today then is a day to remember what you have been taught and to learn anew what Jacob knew so well … that Jesus is the Good Shepherd and it is He, Jesus and no other, that leads you to your heavenly home. Amen.
Let us pray:
Lord have mercy on us, Christ have mercy on us, Lord have mercy on us, "take our minds and think through them, take our lips and speak through them, take our hearts and set them on fire; for the sake of our Lord and Saviour Jesus Christ, Amen.

[1] John 14:3
[2] John 10:14
[3] A prayer of Saint Patrick the fifth-century Christian missionary to Ireland.
[4] John 10:27
[5] Luke 15:4–6
---