Humble yourselves / 1 Peter 5:5-11 / Pr. Lucas Andre Albrecht / Sunday May 24th 2020 / Season Of Easter / Mount Olive Lutheran Church
---
---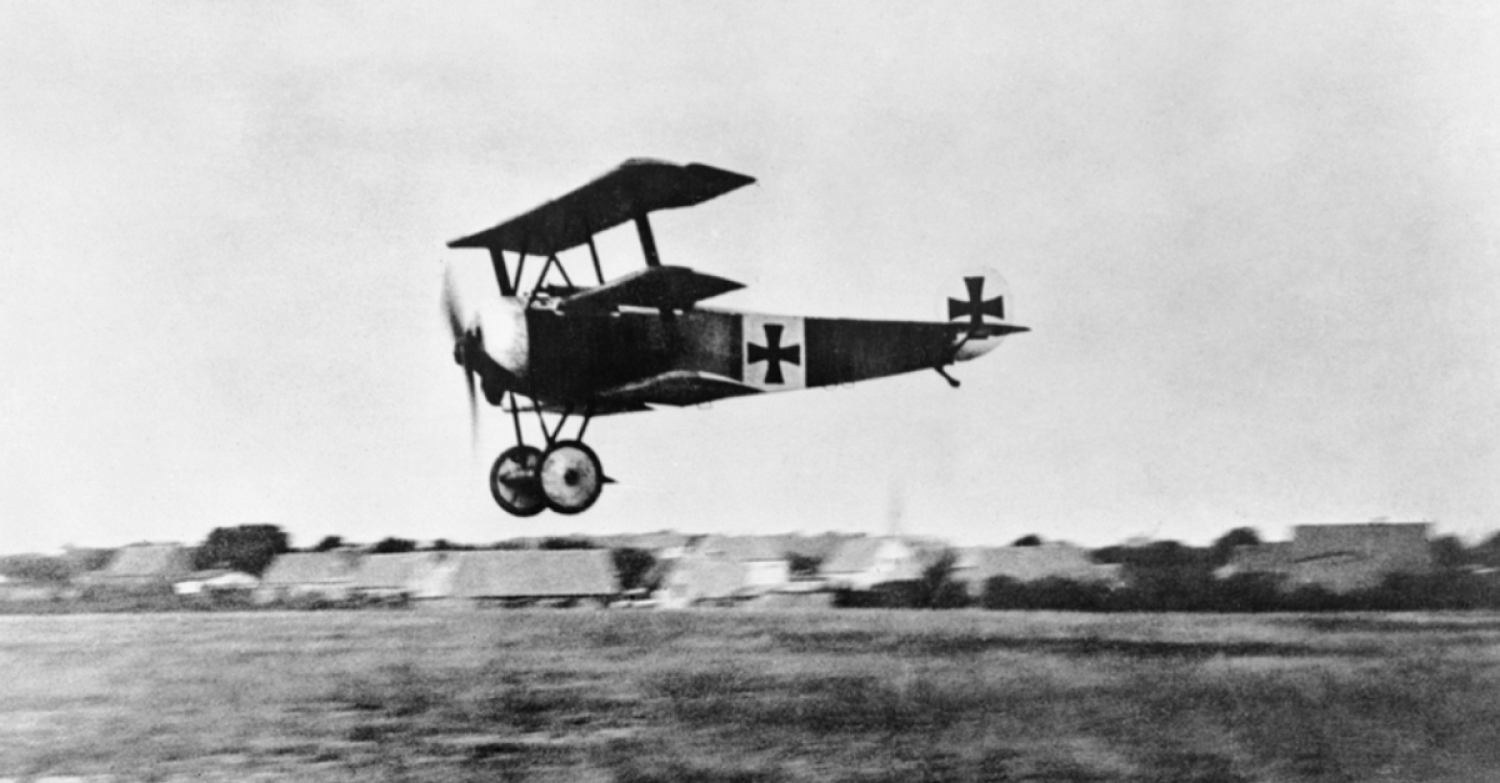 Text: 1 Peter 5:5-11
Theme: "Humble yourselves"
___________________________
Intr – The name Manfred Von Richthofen perhaps doesn't ring a bell for most of us, but his nickname may be well known: "The Red Baron." Red was the color of many of the planes with which Manfred Albrecht Freiherr von Richthofen flew and took planes down, more than any other known record, during World War I. As far as the official numbers go he sent at least 80 aircrafts hopelessly to the ground.
On April 21st, 1918 the Red Baron started to chase a Canadian airplane trying to escape from him. In the pursuit, he ended up entering behind the enemy's lines, diving at a very low altitude. He also didn't notice another Canadian plane behind him who came to help his friend. It is not known for sure whether it was a shot from the ground or from the pursuing plane which, that day, shot the Baron down, a single bullet in his chest. What we do know is that he was shot dead for the mistake of going too far, for too long and too low into the enemy's territory.
It might not be daily, but in many moments we are red barons, flying after temptations for a long time, too far and too low, entering beyond the enemy's lines. We forget that we are not as invincible as we would like to be. Not even close. When we realize it then, we become easy targets to the enemy who is ready to shoot us down.
Peter in our epistle today is warning us against the temptations of the devil that ultimately aim to drive us away from Christ. It may start with a very small, almost inoffensive thing, but in time it may generate a ripple effect that will push us away from faith and Him.
Listen again to Peter's counsel: "Be sober-minded; be watchful. Your adversary the devil prowls around like a roaring lion, seeking someone to devour. 9 Resist him, firm in your faith, knowing that the same kinds of suffering are being experienced by your brotherhood throughout the world."
It is important to be warned about the temptations. But even more important is what Peter says next, "resist him, firm in your faith." As we stand in faith we stand in the knowledge of God's will. And that prevents us to fall for the ultimate temptation: to believe that the lion is not as harmful, or… "does it even exist? Or is the devil just a legend created by the Church to control people by fear?"
Yes, perhaps we may have what I called in another sermon our "favourite temptations." The ones we find justification for, stretch our tolerance with, and way to easily indulge in.
_Judas. In the reading of Acts today we saw how the replacement of Judas by Matthias happened. Thinking about Judas, what led him to betray His best friend and promised Messiah? How much of a stretching and accommodation he did to have his conscience comfortable with what he was doing?
_Along Church's History we see episodes of departure of faith that in many cases perhaps was not a case of going intentionally against the grain of truth choosing the wrong path. It might have been that they didn't pay attention to the first small departures; then their thoughts became their rule along the way, leading into many distortions and blunt errors. They might have been sincere grappling with important theological questions, but they failed to recognize the beginning of the dissonance. They ignored the lion, ignored the advice to stay firm in faith, and eventually their temptation became their orientation.
Not only in the past, but the present presents us with such things as well, when even inside the Christian circles the Church is called outdated, old doctrines are hastily dumped in favour of more progressive ones, the Bible is broken in a million pieces to be rebuilt according to what today we think might have been God's intention, man and woman and sexuality, constant changes in the list of the commandments (what was wrong yesterday is right today, and vice versa ), and so on. Some of these movements may sound like not blatant heresies but attempts to convey the Gospel to the 21st man. Still, whenever there's departure from the Orthodox teaching, there the Lion prowls even louder, knowing that he is just about to have a big, fat dinner.
So many opportunities of flying too far, too low and for too long into temptations field, leading to being eventually taken down by the enemy. How much of a mental exercise do you make to have your conscience comfortable and appeased when you are going to indulge in your favourite temptation?
And where it all begins? Usually, the same way it began with Lucifer, and then Adam and Eve. Pride. Lack of humbleness. St, Peter's counsel then is timely and timeless: ""Clothe yourselves, all of you, with humility toward one another, for "God opposes the proud but gives grace to the humble." 6 Humble yourselves, therefore, under the mighty hand of God so that at the proper time he may exalt you, 7 casting all your anxieties on him, because he cares for you." Also, we should not only see this there, "outside though, but remember Paul's words: "Therefore let anyone who thinks that he stands take heed lest he fall." As sinners, temptations constantly knocks at our door and invites us to ignore the perils.
At those times when temptation appeals to you, when you are realize you've ignored the warnings and you are flying low, far and dangerously, there is a place to go. Or rather, a place to return to: near to the one where the Son of God went - the cross. He went that far and that low, where no one else could go, because he wanted to bring us close to Him. And because he knew he was going to shoot down the enemy in his own line.
He not only brought us close, but he also assured us that we can fly with Him wherever we go, for as long as it takes, wherever we are. Especially, not giving in easily, and not losing sight of the limits of our weaknesses in the face of temptations. He's invincible. We are not.
He cares for you - key words here. In order to resist the devil, to stay humble, to stand firm in faith – only when we are in the hands of the One who cares for us! He does the essential work no one else can do. He cares for you in the most complete and ultimate way in face of trial and temptation. In these times when we talk a lot about essential work, the One and All essential work was accomplished on a cross on a dark Friday. That essential work brings health to the soul through faith by forgiving our sins. That essential work brings food to our heart in Word and Sacraments. That essential work brings protection and security by delivering it from Hell and giving us life eternal.
Peter says: "He cares for you". In a time where "care" is a word that easily slips from everybody's mouth, but not always from everybody's attitude, as the news from an ice cream parlour exemplified(Patrons heavily mistreated parlour's workers), Faith Christ + Humbleness is the essential kit to fly safely and resist temptation. Jesus is the one who killed the lion on the cross to give us assurance, belonging and peace.
Please, hear again Christ's comforting words in John 17: "I have given them the words that you gave me, and they have received them and have come to know in truth that I came from you; and they have believed that you sent me. 9 I am praying for them. I am not praying for the world but for those whom you have given me, for they are yours. 10 All mine are yours, and yours are mine, and I am glorified in them. 11 And I am no longer in the world, but they are in the world, and I am coming to you. Holy Father, keep them in your name, which you have given me, that they may be one, even as we are one."
Cc - Christ, and Christ alone, gives us the assurance that, when we are attacked - and that will happen every so often, that old lion the devil, keeps prowling around as hungry as ever -, we don't need to despair. We know that suffering will always come; However we know also that He has already come to give us strength, courage facing the storm. And, unlike the Red Baron, whose flying career never took off again, we will be kept by Him in our flight path, through every temptation, heading the House of the Father.
---