Covid-19 Update February 2022
---
---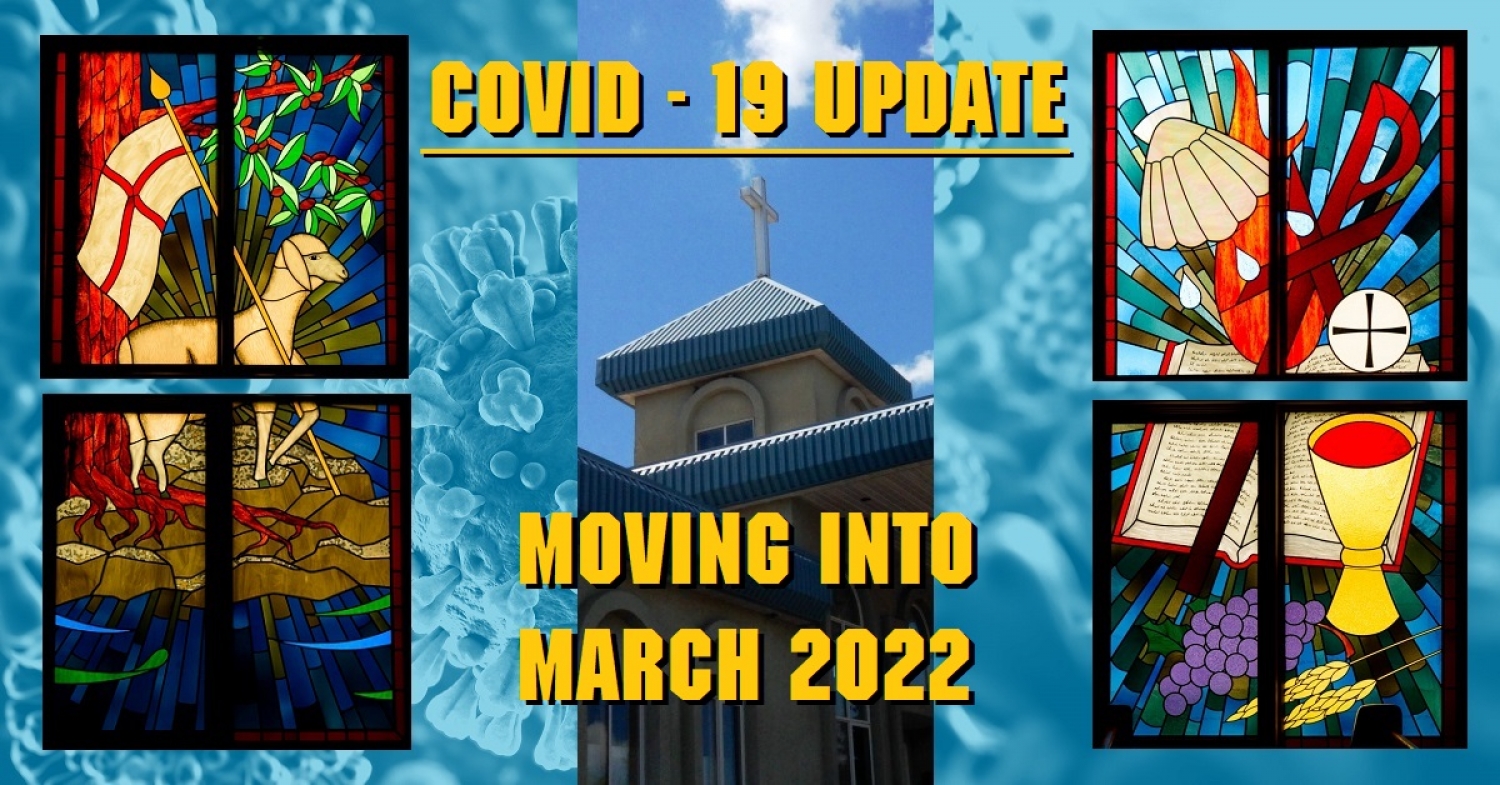 Dear friends in Christ,
Grace and peace to you in Christ Jesus our Lord,
As of March 1st 2022 the Saskatchewan Provincial Government ending covid-19 public health guidelines. While Mount Olive Lutheran Church is free to return to pre-Covid activities and practices as early as March 1st the Board of Elders discussed a more gradual approach: Church Council has provided their blessing for this graduated proposal for March through the first Sunday in April,
March
Sunday 6th Masking no longer mandatory for members and visitors / Pastors and Elders serving Holy Communion will continue to mask,
Sunday 13th Communion trays will be filled to maximum / Pastors and Elders serving Holy Communion will continue to mask,
Sunday 20th Coffee between Services will be available without additional food / Masking for Pastors and Elders serving Holy Communion during the Divine Service will no longer be mandatory,
Thursday 24th Morning Bible Study (Bible Brunch) to resume / Bring your own coffee. At that first Bible study attendees will discuss how they wish to proceed with food and beverages as a group,
Sunday 27th Tongs will be retired for distribution of the Host during Holy Communion in the Divine Service / Passing the Offering Plates may be reintroduced.
April
Sunday 3rd Food items added to Sunday Coffee.
Sunday School and Sunday Morning Bible Study remain on hiatus at this time.
(We currently need someone to help with Sunday School coordination, is this you?)
There will still be some details to work out along the way: the Pastors, Elders and Church Council thank you for your patience and kindness and encourage you to extend that to each other as you have been doing. Like July and August 2021 not everyone will be at the same comfort level, feel free to continue wearing masks if desired. Pastors will carry on receiving members on Wednesdays and Saturdays by appointment for Holy Communion following current masking protocol and procedures including the use of tongs until the beginning of May.
Weekly opportunities to receive Holy Communion for members outside of Sundays will still be available with one small time and day change:
Wednesday Morning 9am – 10:45am
Saturday Morning 9am – 10:45am
For members seeking Holy Communion outside of these times please contact one of the pastors to schedule an individual visit. We are closely monitoring the situation in Regina. If you have questions about any particular activities please contact the church office. This way forward is contingent on any future Government or Public Health guideline requirements.
With love yours in Christ Jesus,
Pastor Ted Giese & Pastor Lucas Albrecht,
the Board of Elders, Church Council and Office
of Mount Olive Lutheran Church, Regina, SK Canada
---